How To Start An Online Coaching Business
For so long, we've been told that we need a lot of things in order to launch an online coaching business: the toppest iPhone, a logo, a podcast, a youtube channel and much more. But what if I told you that you only need 4 things to start? Today, I'm chatting about them and the only things that I actually had when I started my online business.
You will learn:
Top things you DON'T need to start an online coaching business.
4 things you actually need to launch your online business.
The importance of focusing on having a good sales system.
What I had when starting my coaching business.
---
And whenever you are ready to get our help building or scaling your coaching business, here are some resources you can use below:
Check out our FREE 7-step video training to build a profitable coaching business >HERE<
Join thousands of coaches in our FREE Facebook community >HERE<
If you are interested in our programs to help you build a profitable coaching business you can review them >HERE< and set up a free 15 clarity call with one of our coaches to help see if we might be able to help.
Starting an Online Coaching Business (What You Need to Know!)
Coaches and consultants are a dime a dozen. Therefore, if you are looking to become self-employed as a coach, you really need to plan this step carefully, otherwise your failure as an entrepreneur is foreseeable. However, with a little bit of research and dedication, you can execute your dream of running a successful & profitable coaching business!
The decision to enter the coaching business is made by numerous people who are at a crossroads professionally. There are many successful coaches who offer their advisory services to people and organizations, for example as a management or a career coach. There are also members of the traditional consulting professions such as lawyers and tax advisors. This is why the question increasingly arises, what do I really need to do to launch a successful online coaching business?
There is a lot of misinformation out there and as someone looking to enter the coaching business, things can get really confusing. As is the case with everything else, there are certain prerequisites for anyone looking to start a successful online coaching business. To get the ball rolling, you really only need to focus on four things. Let's go through each of them individually.
Having a Target Market
This is pretty self-explanatory, right? Well, the mistake many new entrants make is that they try to focus on a ton of different areas. However, that is not a viable approach! You want to go after a specific target market. Why? Because you want to appear as a specialist in your field, someone who speaks their client's language and understands what it takes to market the business. You can be a successful financial coach, a business coach, a life coach, or a career coach. But you cannot be all of those in one!
It really pays off to specialize than generalize. If you try to help everybody you will most probably end up helping nobody! You must focus on positioning and marketing your business without sending the wrong message. Your marketing message will be too vague if you try to go after every other vertical and it would be hard for you to connect with your clients. The number one thing is to have the right target market you are looking to help. Over time you will get familiar with the ins and outs of your niche market and your clients would not mind paying you top dollar for your valuable expertise!
Identifying the Problem
Identifying a problem that you can solve before it has dire consequences is a skill on its own! But how do you do this? Well, simply follow the mess! Problems arise when things are not done in the right order. Files piled up on a desk are as bad as rotten food sitting in the refrigerator. A lot of the times things are not as obvious. You are going to have to put your investigative hat on and go digging to find the root of the issue. Missed sales targets, unhappy clients, deviation from company policies are all indicative of an internal problem within an organization.
You want to focus on the company's pain points. Look at what keeps them up at night. See where they're lacking and how you can streamline procedures that are driving a bottleneck. You want to be the person who recognizes these shortcomings as quickly and efficiently as possible!
Finding a Solution to the Problem
A good problem solver is always a good coach! There I said it, the coaching business revolves around coming up with solutions to unidentified problems. Whether you are helping an individual or an organization, rectifying underlying issues is how you make it work!
One thing to note here is that the problem itself is as important as the solution. Remember that you are going to help solve not what you want to solve, but what your client needs solved. The focus is on them, it is all about what they need!
A Way to Solve That Problem (Your Service)
Now you need to come up with the best way to solve the problem. This is going to be the service you are going to provide. Your service is solving the problem that your client wants to be solved. Your solution should be ideal and implementable, this is how you are going to command a high fee for your services. You want to be the person who finds the optimal solution to your client's problem.
You must appear confident in your approach. A big part of the coaching business is to get your clients to trust you, otherwise your advice would fall on deaf ears. You not only have to sound convincing, but you must also have rebuttals already in place. Remember that people need to be won over, it is human nature to doubt anything new, regardless of where it is coming from.
Converting People into Clients (The Sales System)
Finally, the most important piece of the puzzle. A process to convert all of your engagements into paying clients, essentially an effective Sales System. This includes your content creation, lead generation, and the ultimate sales conversion process!
When a business first starts out, before hitting a million dollars in sales, the most important goal where the majority of the resources need to be allocated is the sales conversion process. Eighty percent of your focus needs to go into converting people into becoming your clients. None of the other stuff matters if you are unable to successfully execute this step. You don't need an office, a fancy desk or anything else. All you need is a laptop, a good internet connection and a phone, and you are good to go!
Final Words
As the number of coaches continues to grow and many not-yet-consultants harbor the illusion that there is easy money to be made in the coaching business, you really want to position yourself in a way that separates you from the rest of the crowd. While the barrier to entry in the coaching business may be low, becoming a successful entrepreneur is a whole 'nother story!
At High Impact Coaching, we train individuals to successfully launch their coaching businesses. You will go through the process of client acquisition, positioning your business and developing a successful sales strategy. The pitfalls usually appear after starting your own business because that is when you realize that there are thousands of competitors who offer similar services. You want to be that person who companies want to speak to! You do not want them to doubt your services or hang up the phone when you tell them your hourly rate.
The good thing about the coaching business is that even though many people enter the business, only the skilled professionals remain! Nothing can stop you once you have narrowed down your target market, identified your client's problem, found a solution to their problem and developed an effective sales process. I won't lie to you and tell you that it is an easy process, it does take a lot of persistence and dedication. If it were that easy, all of these coaching businesses would be killing it right now. Remember you are not signing up for easy, you are signing up for Impact!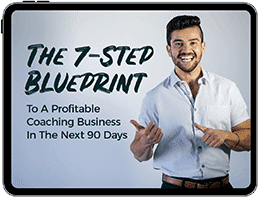 The 7-Step Blueprint to
a Profitable Coaching
Business in the Next
90 Days