7 Steps to a Profitable Coaching Business
Ninety-five percent of coaches won't make it full time…and it's not because they aren't good coaches. Most coaches are great in their area of expertise, but having a successful coaching business requires two things: coaching expertise… and BUSINESS expertise.
And that's where many fall short. They've never built a successful coaching business before, so they don't know how to do it right.
But with these 7-steps you can finally learn how to:
Position your services for premium prices like $3k, $5k, even $8k (… even if you never thought that was possible)
Walk clients into enrolling with you (… without any sleazy sales tricks)
Generate consistent, quality leads (3-5 a week!) without spending a dime on advertising.
And get out of your own way to scale your impact to thousands (… from anywhere in the world)
… All while working less hours so you have time for the things that matter in life.
****************
And whenever you are ready to get our help building or scaling your coaching business, here are a couple resources below: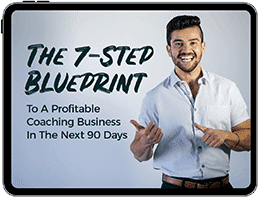 The 7-Step Blueprint to
a Profitable Coaching
Business in the Next
90 Days