How to Become a Successful Financial Coach (What You Need to Know!)
You have decided to become a financial coach and are ready to make your dream a reality. You have always been the go to person for people's financial questions. You are able to make sense of money situations easily. You have a real knack for money and love managing it. After paying off your debt and building wealth, you really want to give back and help others do the same.
Admit it, you are kind of a money nerd, and the world needs people to help them master their money. You know deep down that you have the skills for it. You are a great listener. You have excellent communication skills.Your math skills are excellent. You are a people person and really know how to build relationships. But you aren't afraid to speak the truth and hold people accountable. You are great at encouraging others and offering support.
Plus, you have always wanted to start your own business. It's great being your own boss. You set your own schedule. You can work from a coffee shop, the beach, or even from your bed. Whether you dress up or wear sweatpants is totally up to you. Helping others lights you up and you love writing, talking, and sharing about it everywhere you go. If this gets you excited, then buckle up because below I will spill the beans about what it really takes to build a successful career as a financial coach.
What does it really take to become a financial coach? Is there a market for these services? What kind of living can I expect to make as a financial coach? Where can I expect to work? If you love financial freedom and want to help others to experience that as well, financial coaching could be in your future.
If you know you've been blessed with gifts and skills and are here to do something quite extraordinary and create profound impact… this article is for you. I will show you how to launch a financial coaching practice, change lives, and make real money as a successful financial coach.
What's Needed to Become a Financial Coach?
A financial coach is a person who educates individuals on the basics of personal finance and creates a budget and spending plan that reflects the values and goals of the client.
I am sure you have heard financial coaches go by a number of different names including: personal finance coach, money coach, money mindset coach, financial wellness coaching, financial therapist, financial literacy coach, financial fitness coach and financial transformation coach among others.
Working with people in a financial coach capacity requires specialized expertise. While there are some certification programs available, you don't need one to be a financial coach. Really, all you need is the ability to help people learn to manage their day to day finances and save for the future. Having a bachelor's degree in accounting, finance, business, or a related field is helpful, but not necessary.
Getting your finances in shape can be a tall order. Many people seek out professional help to organize, manage, and optimize their finances. So it's important that they hire the right type of financial professional to meet their needs.
Let me set the record straight. Being a financial coach is not the same as being a financial advisor. A financial coach helps their clients with the basics of money management. Their goal is to help their clients develop healthy money habits that will last. Financial coaches educate their clients on the basics of personal finance and work with them to create a financial plan that reflects their goals.
Financial advisors assess the financial needs of individuals and help them with investments (such as stocks and bonds), tax laws, and insurance decisions. They help clients plan for short-term and long-term goals, such as education expenses and retirement. They recommend investments to match the clients' goals.
Plus, financial advisors are required to adhere to strict regulatory compliance. Those who choose to ignore the rules can find themselves in hot water with the FINRA, SEC, DOL, and state governments. They also may face punishment or suspension by boards of standards that govern any professional designations that they might hold.
To be a successful financial coach, you'll also need at least basic knowledge of money management. It also requires patience, excellent listening skills, compassion, and a dedication to continual personal growth. Plus you'll need to serve as the CEO of your business and learn about setting up and maintaining a business, as well as getting and keeping clients.
What I do recommend is finding a mentor to scale and grow your coaching business. While you may be an expert at finances or coaching, you have probably never built a 6 or 7 figure business before. So working closely with someone with a proven system for doing that will help you go farther and faster. 
Being a successful financial coach, requires helping people assess where they are currently at financially. They need to create a budget and track their spending. In order to improve their finances, they will need to look at the behaviors and emotions that got them there. So it requires looking at their money story and underlying beliefs.
Then step by step you can walk them through realizing their financial goals. You can hold them accountable as they reduce spending, pay off debt, create an emergency savings fund, and save for retirement.
Successful financial coaches are good listeners, they hold people accountable, they can educate clients, they teach them good money habits, and they develop positive beliefs around money. They empower people to take control of their money. Instead of letting money dictate their path, they choose to spend money in a way that matches their priorities.
Here are the steps to starting a financial coaching business.
Discover your motivation. Ask yourself why you want to get into the business? Do you love money? Are you passionate about making it grow? Are you service oriented and want to help others? Did you pull yourself out of a financial crisis and want to empower others to do the same? Knowing your reason why will give you power and motivation to build your business.
Educate yourself. While you may be a whiz with money, you may not know how to pass that knowledge onto others. Or perhaps you are already a personal coach but want to focus on helping others build better money habits. You'll want to work with someone who has built a successful coaching business so you can make yours profitable.

Choose your niche. According to CEG Worldwide research, 70% of top financial advisors (those earning $1M or more annually) focus on a particular niche. You can create your own category. Change what you offer, how you do it, the way you market it to be uniquely your own.  
Stand for something specific and spectacular. Your niche could be based on occupation. Such as the top financial coach for dentists. Your niche could be a life transition like: parents money coach, divorce money coach, or retirement money coach. Your niche could be a demographic group such as millennial money coach, boomer money coach, forty something money coach, couples money coach, or women's money coach.

Start with your FRANK network. This is your friends, relatives, associates, neighbors, and kids. These people in your warm market already know who you are. Tell them that you are doing financial coaching and ask who they know that could use some help. You can even send a warm introduction note to your email friends, by mail, and through a facebook post.

Packaging. Map out the financial coaching offerings you will have. This could be one on one coaching, group coaching or webinars. You can create a workbook or even an app to help people stay on track with their money management.
Setup a Financial Coach Facebook page. Social media is an incredible, free tool for promoting your financial coaching practice. Add a nice Facebook cover image and profile picture. Invite people to your page. Post interesting content that is valuable to your ideal clients.  
Content can be financial news, motivational quotes, upcoming events, special offers, and invitations to your discovery calls. It's fun to add your personality into the posts. Share what you are doing, what you are creating, what event you are at, and let them see behind the scenes of your business.
Marketing. This  is what helps establish your position in the market, gain prospect attention, build demand for your services and ultimately win customers.  Even if your business isn't scrambling for clients today, you are better off with a defined marketing plan. Without a marketing plan, you take a shotgun approach to marketing. Having a written marketing plan can keep you focused on the right things, but it can also keep you from spending time, money, and energy on activities that don't move the needle or help you achieve your goals.

You need to define your ideal client.
Determine what goals you would like to reach through marketing.
Find a way to differentiate yourself in the marketplace.
Make a list of your competition.
Determine which marketing channels you will employ.
Create a marketing calendar with themes you'd like to focus on each month. Then you can write educational social posts on those topics and promote services that align with that.

Compelling Story. One of your best marketing tools is your personal success story. People want to hear what financial mess you were in, what you did, and the success that you now enjoy. It shows that you really know your stuff. Plus share success stories of your sharing your system to help other clients get results. More than any credential, your personal story sets you apart. There is only one you. The more you lean into your story and authentic self the more clients will want to connect to you.

Here's an example of a compelling story.
My name is Missie Johnson. Ten years ago I walked out of the house with only a $20 dollar bill in my pocket. I had enough of my abusive husband and knew if I didn't leave then it might cost my life.
I slept on a mattress I pulled out of a dumpster. After getting a job I was able to move to a small apartment. I paid off my debt, pulled together an emergency fund, and started saving for retirement.
It was then that I started my financial coaching business to help abused, single, and divorced women like me get back on their feet. Within 3 months I made my first $10,000
I went on to build a six figure business in my first year. Since then I have helped thousands of people at all levels get focused, clear and make transformations in their financial life.
Getting First Clients. One of the best ways to get first clients is to join Facebook or LinkedIn groups with your ideal clients. Watch for financial questions that come up.  Offer insightful answers. By being helpful and sharing your expertise, people will be drawn to work with you.  
Discovery Sessions. You can offer free sessions to give clients a chance to get to know you and see if you could help their situation. In this phone conversation, you will get clear on their goals, where they are now and what it is going to take to get them where they want to go. In this session, they can ask questions and get to know you better and it will allow you to see if they are a fit for one of your programs.

Building Authority. People are drawn to working with top experts. Being a thought leader means putting your ideas out there. It's about being the go to expert for the media in your industry. You can publish a book. You can start a podcast. You can create a signature system with a proprietary method to achieve financial freedom. You can be featured as a speaker in industry events. When you are an authority you can charge more and will attract high end clients.  
Career Opportunities for Financial Coaches
The truth is, people don't buy coaching, they buy solutions. They are looking for how to erase credit card debt, create an emergency fund, develop a budget that makes sense, make smart money decisions, heal their emotional wounds around money, stop fighting about money in their relationship, and save for retirement.
When you look at the numbers it's apparent how many people need financial coaching.
So many people are living beyond their means. Their expenses are out of control. They don't know how to save. There is a huge need for financial coaches.
Close to half of Americans have more credit card debt than savings.
25% have no savings at all
15% of Americans have no retirement savings at all
Signs Someone Needs A Financial Coach
You don't have any emergency savings. It's smart to build up an initial emergency savings fund of $1000. Then work to build that up to 3-6 months worth of your salary.
Money is pouring through your fingers and you don't know where it's going. By setting up a budget and tracking your spending you'll be more mindful about what you spend and where you spent it.
Your debt load is insane. In fact you don't even like to look at your monthly bills. You just pay the minimum each month. If you pay off your cards starting with the smallest to the largest, you'll gain momentum. Then cut up your cards so you aren't tempted to shop with them anymore.
You are living paycheck to paycheck. After you pay the bills there is nothing left over. By getting a new job or a side hustle you can add extra income.
You have no financial goals at all. When you have a goal that excites you, it will motivate you to make the right financial decisions.
You are guilty of retail therapy. When you are sad, you hop over to Amazon.com to buy something in hopes of feeling better. But that "high" soon wears off and quickly you'll want to buy the next amazing item. You need to identify your emotional triggers and limiting beliefs that keep you stuck in debt.
You have never managed your own finances before because someone else always did it for you. You can learn the basics of money management and build a better future.
You got divorced and are a financial hot mess. You only have 50% of what you once did. You need to cut expenses, boost income, and create a budget.
You are a boomer who has barely started planning for retirement and need to seriously jumpstart your efforts.
You and your partner constantly fight about money. You need to find common ground and be able to communicate about money.
As you can see there is a world of people who need your help. As a financial coach you can make such a difference in their lives.
There are a variety of opportunities for financial coaches. Below are a few to consider.
Home Based Financial Coach. Start your own business as a financial coach. This is my top recommendation and the earning potential here is unlimited. You are your own boss, set your own schedule, and choose your own clients. You help clients by holding them accountable, help them change unhealthy money behaviors, remove the emotion from their finances, or make a plan specific to their own situation.
Corporate Financial Coach. Some companies hire a financial coach as a benefit to their employees. They help employees with things like managing a better budget, spending mindfully and saving more.
University or College. Many higher educational organizations will offer financial coaching to help students develop skills and behaviors they can improve upon independently over time. They help students reach financial goals such as making a budget and financial decisions, tackling financial problems, prioritizing financial goals, understanding financial systems, and making plans to reach goals.

Bank or credit union. Financial coaches at financial institutions guide individuals during uncertain times with managing credit or financial needs. They help in a non-judgmental manner while encouraging individuals to make the changes needed to get back on track with financial goals.

CPA or financial advisors. Adding financial coaching creates another income stream. A financial coach can help their clients to gain clarity, focus, and direction around their money by identifying their priorities and coming up with a plan to reach their goals.

Nonprofit and service based organizations often have financial coaches who are volunteers, paid financial planners, and trained in-house staff. They offer coaching to low income families and the underprivileged to help them gain financial stability.
Faith based organizations. Financial coaches help low income individuals to discover a better way to overcome financial challenges. They help individuals discover a biblical approach to the root causes of poverty. They empower others to gain skills to manage their money well. Plus they offer the support of faith and community.
How to Scale and Grow Your Financial Coaching Business
To help you serve more people with your financial coaching services, I have built a high impact coaching program to help you effectively build your coaching practice while earning a six or seven figure income.
As a financial coach, your objective is to understand clients' financial goals and situation, diagnose unhealthy money habits and beliefs, then help them prioritize action steps and empower them to realize their personal financial plans.
As a business owner, your goal is to create a profitable coaching business. I can help you create a winning mindset. I'll show you how to generate consistent leads for your financial coaching business. I'll share a proven way to enroll new clients. Your income could (realistically) double "average" within the next 90 days.
Wouldn't you like to be among the highest paid, most sought after financial coaches in the industry?
Imagine attracting high-end clients creating deeply transformational results, keeping clients longer, and making more money in your financial coaching business.
As your coach, I can help you navigate through the waters and become a stronger leader who makes better decisions. I'll help you create a business model that you love while growing a lucrative, financial coaching business. Plus, I can help you create the systems, strategies and support to get your message out to the world.
Discover how you can easily attract new clients and get paid to create deep, personal financial transformation by becoming a financial coach by booking a free 15-minute clarity call with me here. https://zanderfryer.clickfunnels.com/schedule-a-call-step-1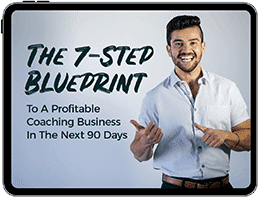 The 7-Step Blueprint to
a Profitable Coaching
Business in the Next
90 Days