How To Generate Leads On LinkedIn
Have you been looking for clients on Facebook and Instagram with no results? Your leads might be in LinkedIn!
Justin Rowe figured out the right way to use this platform to generate leads and grow businesses, and he's willing to reveal all his secrets.
Find out how you can dominate your audience's feed and why so many people have failed on LinkedIn because they didn't understand how it works.
---
You will learn:
How to view Linkedin as an opportunity to skyrocket your business.
Why you should double your prices.
Dominating a CEO's feed on Linkedin.
Your profile on Linkedin is a landing page.
How LinkedIn works.
The most common mistakes people make on LinkedIn.
Advantages of Linkedin over Facebook and Instagram.
And whenever you are ready to get our help building or scaling your coaching business, here are some resources you can use below:
Check out our FREE 7-step video training to build a profitable coaching business.
Join thousands of coaches in our FREE Facebook community.
Review our Programs to help you build a profitable coaching business and set up a free 15 minutes clarity call with one of our coaches to help see if we might be able to help.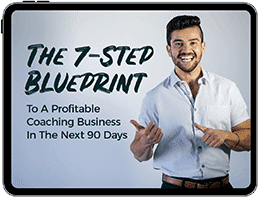 The 7-Step Blueprint to
a Profitable Coaching
Business in the Next
90 Days