How To Charge More As A Coach
Have you considered lowering your prices to attract more clients?
That's a terrible idea ALL COACHES get when they get started!
When you undercharge, you undermine your business, and I'll tell you why. So find out as I explain why you must NEVER charge low prices and how premium prices can make you reach over 10K a month, as well as the things you need to position yourself as an expert coach!
---
You will learn:
5 things you need to charge your clients premium prices.
Why it's important to start charging premium prices.
How many clients you actually need to break the 10K income barrier.
What kind of clients you actually attract when you undercharge.
2 ways you must avoid to have ZERO impact.
Positioning yourself as a solution provider rather than as a service provider.
Not focusing on what you want for your clients, but on what they want.
---
And whenever you are ready to get our help building or scaling your coaching business, here are some resources you can use below:
Check out our FREE 7-step video training to build a profitable coaching business.
Join thousands of coaches in our FREE Facebook community.
Review our Programs to help you build a profitable coaching business and set up a free 15 minutes clarity call with one of our coaches to help see if we might be able to help.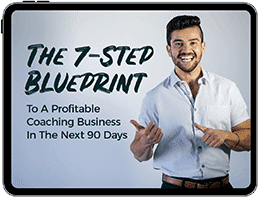 The 7-Step Blueprint to
a Profitable Coaching
Business in the Next
90 Days