Generate 20 ORGANIC Leads A Month On Instagram
Instagram is mainstream! If you're not using this tool, you must start right away!
Today, I'll be talking with Aaron Perez who knows everything there is, from unknown personalities to rock stars, on Instagram.
We will find out the right way to bring in at least 4 leads per week without wasting any money! He's also debunking this "how many hashtags" myth, and reveals the worst mistakes ALL COACHES make!
---
You will learn:
Why Instagram is such a good tool to generate leads.
How long it takes to become an Instagram expert.
The right way to use hashtags.
3 lead-attracting tips to apply on your profile.
The best type of content to post on Instagram.
How to turn likes, followers and comments into money.
The big goal you must set for yourself on Instagram.
The 3 biggest mistakes all coaches make on Instagram
And whenever you are ready to get our help building or scaling your coaching business, here are some resources you can use below:
Check out our FREE 7-step video training to build a profitable coaching business.
Join thousands of coaches in our FREE Facebook community.
Review our Programs to help you build a profitable coaching business and set up a free 15 minutes clarity call with one of our coaches to help see if we might be able to help..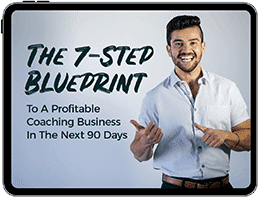 The 7-Step Blueprint to
a Profitable Coaching
Business in the Next
90 Days