How to Start A Successful Life Coaching Business From Home (The Ultimate Guide)
Quitting your full time job to start a life coaching business can take a lot of guts.
You want more time to spend with the people you love, have the freedom to decide how you spend your days, and the money to enjoy countless opportunities and a wonderful quality of life.
You want to build an engaged community, impact millions with your message and attract customers and clients from all over the world. And you want to be recognized as a visionary leader in your field.
You know you're meant for something big and that you have so much to offer the world, but you don't know how to actually make it happen.
Knowing the reason why you want to become a life coach will help you find the motivation as you build your coaching business. Have you realized incredible success in an area and want to give back? Have you been through a traumatic life experience and want to share your insights with others. Or maybe you are looking for the freedom and lifestyle that coaching from home can provide. If you love sharing advice, motivation, and inspiration with others then life coaching from home is the right career path for you.
Advantages of Life Coaching from Home:
In many ways life coaching from home is everyone's dream? Wouldn't it be amazing to have your day start when you wake up? You wear what you want. You do work you love? If that's the life you crave it's time to dive in.
Here's some of the advantages of life coaching from home:
– Do what you love. You only take on clients and projects that light up your soul.
– Make an impact. Every day you serve others with the insights and knowledge only you have to share. You'll know you are using your gifts and fulfilling your life's purpose.
– Personal fulfillment. It's the best feeling in the world knowing you are helping others.
– Freedom. You choose your clients, your work, your focus, your hours, your pay.
– Set your own schedule. Work as much or as little as you want.
– Lifestyle. Work from home, at a coffee shop, or while you are on vacation. It's up to you.
– Work life balance. Work flexible hours that work around your schedule.
– Flexible work attire. You can work wearing pajamas, sweats, or jeans…no one is judging you.
– Family first. Be there to parent your children, assist your aging parents, and see your spouse as soon as they get home from work.
– Unlimited income. You don't have to ask your boss for a raise. Give yourself a raise anytime you want.
– Zero commute. Never sit in rush hour traffic again. Your commute is from your bed to your home office.
Personal Assessment:
Before becoming a coach it's important to do a self assessment. Since you are your business, your business will only be as strong as your skill sets. Ask yourself: What am I good at? What do I have skills in? What do people also ask me about? What am I an expert at? What have I personally achieved success at?
Below are skills that make a successful coach:
Good Listener
Observation
Empathetic
Curiosity
Communication
Feedback
Creative Problem Solver
Goal Setting
Evaluation
Creating Systems and Structure
Building Rapport
Positive Mindset
Goal Setting
Marketing
Business Development
Sound like you?. Many skills can be strengthened if you need training. No matter what your area of expertise, these are skills that will help you be a successful coach.
Determine Your Coaching Specialty:
What area of coaching do you want to go into? What is it that you provide that no one else can? This should be something that either you have had experience in or something you have helped others achieve success in.
Here are some some of the most profitable life coaching niches:
Mindset Coaching
Mindfulness Coaching
Peak Performance Coaching
Leadership Coaching
Weight Loss Coaching
Fitness Coaching
Nutrition Coaching
Emotional Intelligence Coaching
Relationship Coaching
Dating Coaching
Divorce Coaching
Parenting Family Coaching
Transition Coaching
Spiritual Coaching
Mindset – Limiting Beliefs:
Success is something you attract by the person you become. In order to grow success in a new area you need to expand your mindset and beliefs in that area. What demons are you battling? We often are the thing that holds us back.
The truth is a lot of beliefs are formed in childhood or shaped from the experiences we have been through. You can identify your limiting beliefs. Then you can create new empowering beliefs. Embracing these new beliefs will totally impact your success.
Investing in yourself and your business can feel like a huge risk.That's why it's important to understand your mindset and overcome limiting beliefs.
What beliefs are you struggling with now?:
I am afraid of rejection.
I don't think I am good enough.
The market is already saturated with coaches.
I don't know how I'll fund my business.
How will I find time to make it happen.
Will I be able to overcome distractions and get focused?
I am not qualified to be a coach.
Someone is already a big success in my niche.
What I know is easy for me and it's common knowledge.
I am afraid of how being successful will change my life?
I am not good at sales.
I won't be able to see this through completion.
What if I am an awful coach?
I am afraid of haters putting me down.
Now that you have identified those negative voices in your head, you can empower yourself with beliefs to help you succeed.
Affirmations:
Daily affirmations are simple, positive statements declaring specific goals in their completed states. You can write an affirmation to help you attract your ideal client. Write it on a note card and review it every morning.
Here's an example:
"I am enrolling high end coaching clients who are easily inspired by me, ready to work with me, have the money to hire me, understand the value of our work, and give me their credit card info at the end of our first call together!"
Vision board:
A vision board is a collage of images, pictures, and affirmations of your dreams and desires, designed to serve as a source of inspiration and motivation to attain goals. Cut out and collect pictures, words, quotes that inspire you and represent the life and business you want to create. Put it on a poster board and mount where you can see it every day. It will be a daily reminder and get you excited to work towards your goals.
Prayers/Meditation/Visualization:
Visualization is simply creating images in your mind of having or doing whatever it is that you want. When you believe in the power of the universe or your higher power you can harness that energy and believe to help you achieve your dreams. Visualization and meditation have been used by many successful people. Remember Walt Disney said, "If you dream it, you can do it."
Surround Yourself with Positive Support:
They say you are the average of the five people you spend the most time with. The people we surround ourselves with are the biggest influence on our behavior, attitudes and results. So it's important that you surround yourself with positive people, be it friends, family members, and colleagues. People's vibes, mindsets, and beliefs will become your own,
Envision your Perfect Business:
Before you go building your business think carefully about what kind of business you really want to build. Your business model must work for your joy. You will only attract serious money when you create a model that works for you.
What does your dream coaching business really look like?:
Side Hustle
Private coaching with one on one
Passive income with life of freedom
Group coaching
Empire with a team
Celebrity Guru with Traveling, speaking, media
The more detailed you get about the type of business you want to build, it will help you make decisions to grow your business in a way that really suits you.
Mission:
This is a foundational piece that must be in place if you are to really build a business that truly makes an impact. Who do you serve and why do you serve them. What impact do you want to create? What results do you want to help them create? Your mission is about how you will make your vision a reality.
My mission is to inspire and empower an ARMY of conscious leaders and coaches to change the face of our world for good. And I'll settle for nothing less.
Ideal Client:
You want to get to the core of understanding your ideal client profile in terms of their wants, and needs, and desires in order to effectively market to them and attract them to you as an ideal client and a paying client. Write out their age, gender, salary, education, family situation, goals, challenges, values and fears.
Positioning – Authority and Expertise:
Identifying your niche is one of the biggest struggles for business owners. If you have shied away from narrowing your niche, you are not alone. Many businesses think if they narrow their focus, then that means they will be saying no to potential clients and losing money. However, not having a narrow enough niche is one of the main reasons many business owners are not successful.
You want to ignite your messaging, brand, and authority to become the "guru" in your space. The first step is to claim the title. Then write lots of content showcasing your expertise. Position yourself as an authority to the media by making a media page and sharing your talking points. Getting media coverage gives you credibility. Writing a book helps you stand out as a top authority on your subject. Seek out speaking engagements in your industry. Get social proof by scoring great customer testimonials and ones from respected authorities in the market.
Mentoring:
If you're struggling to hit your income goals as a coach or consultant, think about getting a mentor coach. They will help you realize your goals faster. I developed my High Impact Coaching system to help coaches like you to build and scale profitable businesses. I won't stop until all of the coaches, specialists, and experts out there have the skills, strategies, and tools to do what they were meant to do— to have the impact they were meant to have.
Build Visibility through Marketing:
Clients usually buy from you because they know, like and trust you.There are many marketing strategies available to increase your visibility and credibility. However, it's important to choose the marketing strategy that fits you, your business and your personality. There are several tried-and-true strategies you can rely on.
Networking:
Networking is the process of developing and using your contacts to increase your business, enhance your knowledge, expand your sphere of influence or serve your community. Make contacts, make sales, eliminate cold calling, build your career, build relationships, build your reputation, and make friends.
You can network online in Facebook and Linkedin Groups. Reach out to people you admire and share what you respect about them. Join online coaching organizations. When you join a coaching group often there is a private Facebook group where you meet like-minded people. For example you can join my High Impact Coaching Facebook Community here: https://www.facebook.com/groups/highimpactcoaching/
You can network offline anywhere: in your yoga group, church, neighborhood, in line at the store. There are also professional networking groups like Business Networking International you can join. Join the local Chamber of Commerce. Attend seminars. Be part of a meetup group. Sign up as a volunteer. Attend a trade show.
Speaking:
Speaking is one of the best ways to attract your ideal clients. Give a workshop or seminar on your topic of expertise. Your ideal client is struggling with something. Then they see a local or virtual workshop sharing the answers on how to overcome it. They come to the event. They get excited when they meet you. They sign up to work with you.
Social Media:
Social media marketing is a powerful tool to help you attract high level clients and sell more of your programs and services.You can build buzz around your coaching biz by sharing social media posts that help you make a bigger impact. But you need to get social media savvy before you jump in and start posting.
Decide what social channels your ideal clients are on.
Create a content calendar that aligns with your sales promotions.
Engage a lead generation strategy.
Plan to post consistently.
Build a tribe of loyal and enthusiastic fans.
Review insights to develop ways to boost engagement.
Referrals:
If you want to expand your client base, referrals can help you do that. One of the keys to getting referrals is building relationships. When people know who you are, what you do, and think you are amazing, it's easy for them to refer you to others. Another way to gain referrals is to offer a commission.
When you finish working with a customer send them a note asking for a referral and let them know that referrals are how you grow your business. Having a formalized process of how and when you ask for referrals will make it easy.
Podcast:
Podcasts are an easy to create, highly engaging way to create authority. It can help you get known nationally for what you do. Plus it gives you the ability to connect with highly successful people in your field. Imagine interviewing best selling authors, sought after speakers, and high-impact guests.
Warm Letter of Introduction:
A warm letter is a letter that you send in the mail to reconnect with people you know, updating them on what you are doing professionally. Update them about the new business you have started. Share who your ideal clients are, what they struggle with, how you help them, the results you help them achieve. Tell them if you work with clients locally or all over the country. Share your contact information.Thank them for their help. Offer to help them in any way if they need.
Enroll First Clients:
One of the biggest hurdles to going from signing up a new client to hearing "you changed my life!" has a lot to do with the challenge of getting clients on board in the first place. I know how scary it can be starting out, feeling unsure of how exactly to approach someone you so want to work with even when you're confident that you have something amazing to offer. You need to put your finger on how to pitch your services in a way that feels natural and true to who you are. Once you master this skill you'll have the confidence and know-how when it comes to selling your services, growing your biz and creating the life of your dreams. My specialty is helping people get from "cold to sold" in the enrollment process to enroll clients.
Discovery Call:
An easy way to enroll new clients is to offer a discovery call. This is a private one-to-one session entirely focused on you and your business. It gives an opportunity for you and your client to get to know each other, to take a peek into their current life+business challenges and goals, and focus on what is needed to shift them into the direction and experience they seek. You can talk about their needs, wants and goals for your life+business and how and if you are a good fit to support them through that. You can promote your discovery calls on your website, in your newsletter, and as social posts. You can private message people you talk to online when it feels appropriate.
Freebie:
Offer your site visitors an ebook or a checklist that would be irresistible to your ideal clients, and immediately start seeing your list become a source for business. You can think of this as a way to build your list, but you can also think of it as a screening mechanism: You know the people who sign up for your list are at least motivated to take this step. If your existing lead magnet is not doing well (for example, it's getting less than a 2% opt-in rate), it may be because you aren't offering a solution that people are motivated enough to solve.
Live Events:
All successful people share one powerful characteristic: a desire for growth and progress. Imagine you creating and hosting an epic live event to expand your tribe and grow your coaching business. There is no feeling like doing something meaningful with your life and earning a great living at the same time. A value-packed live event or workshop is an extraordinarily effective way to create real change for every single participant. It really expands your outreach by allowing you to create transformational experiences for hundreds of people at the time.
Signature Program:
Have you ever wanted to create a program of your very own that sells, a program that you're known for, that delivers massive value to your clients? A signature program is one of the fastest paths to more clients and multiple income streams online. It will help you generate massive sales and big momentum for your business. A signature program is when you package your knowledge into an original course that helps others implement a signature process you have developed that gets proven results. It's your original blueprint that works every time. It presents a proven process that you have discovered through your experience or expertise. It immediately sets you apart as an authority in your industry.
Group Coaching:
Thinking of working with groups of people instead of coaching clients one-on-one? You can build powerful group coaching programs that establish your expertise and create results for your clients? The power of group coaching comes from the connection, communication and community that comes from not just you interacting with your clients but group members interacting with each other. Plus, from a business standpoint, group coaching helps you maximize your earning potential and increase your income. You can work less and earn more.
Position for Premium Pricing:
Are you currently charging enough for your client engagements, and is there any more value you can offer to increase your prices as they stand right now? Are you a commodity or are you a one of a kind offering? Pricing comes down to perceived value. For instance you can charge a lot more for a program that helps you build a 6 figure business in 12 months than you can for a business coaching program with a monthly fee.

When you are the top provider in your niche you can command greater fees. So instead of marketing to everyone, find a small market that you can be the top authority in. Then you can command premium rates.
Scale your Impact to Thousands:
If there is one thing I've learned supporting thought leaders to create recurring revenues by monetizing their genius, it's that until you find ways to leverage your expertise, you will forever be chasing the next client, falling short of your goals and running yourself ragged.
You need to make sure you have the systems, strategies, and support to get your mission and message to the world. Scaling your business can help you increase your earnings, elevate your status, and free up your time.
Here are some next level ideas to scale your business.
Coaching Packages
VIP Intensives
Mastermind Retreats
Membership Community
Certification

Find, Hire, and Lead your Dream Team:
If you find yourself working nonstop you may need to start delegating. It's important to do what you do best and outsource the rest. Make a list of everything you do in your business. Put an X beside things that only you can do. Look at the rest of the list? I bet there are a lot of things that you could delegate to save time and get better results. Take a look at accounting, website design, social media management, a virtual assistant, an accountant, a customer service rep. Start with a small test project to make sure your new team member is a good fit. You'll be amazed what you can do if you stay within your area of core genius.
Create a High Profit Life Coaching Business Today:
You can achieve your dream of finding freedom, flexibility and a generous income doing coaching from home online. Creating a successful coaching business requires being skilled at COACHING and at building a BUSINESS.
Once you nail your niche and find clients online you can scale your business so you can spend less time marketing, and more time doing work you love!
I specialize in helping coaches like you implement a proven system to generate more leads, enroll at higher prices and scale their influence as a coach.
If you are a new coach, I have a program designed to take you from ZERO to a 6-figure business in under 90 days, you'll learn everything you need to get up and running fast.
If you are an existing coach earning 6-figures and want to scale to $40k, $50k, or $100k per month? Then our Accelerator Mastermind was designed for you. Not only will you have the exact tactical steps and strategies to scale to 7-figures, but you'll also have the highest level of support in the industry to make sure you overcome any roadblocks along the way.
When you master the strategies that I can share, you'll discover it's possible to create more than enough money in less than half of the time you're probably working right now.
Learn more about our High Impact Coaching team and how we can help you on our website at https://zanderfryer.com/programs/.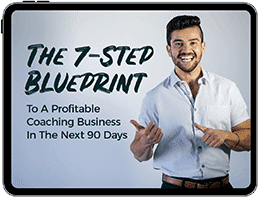 The 7-Step Blueprint to
a Profitable Coaching
Business in the Next
90 Days