How to Become a Life Coach (The Ultimate Guide)
Do you dream of becoming a life coach? Is something stirring inside you that makes you want to help others and make a difference? Maybe you yearn for a simpler life where you can work from home and spend more time with your family. Or perhaps you want a business that can pick up and go with you as you travel?.
Whatever your reasons for becoming a life coach, today it's easier to start a coaching business than ever before. I quit my corporate job to start a coaching business and grew it to seven figures in just twelve months. It is possible to build your own online coaching business from scratch and replace your salary so you can have the freedom, fulfillment, and abundance you've been dreaming of.
I want to share what it actually takes to launch a coaching business and what it takes to be successful.
Below are the exact steps on how to become a life coach so that you can do it too.
Passion and Purpose. Before you start this journey you need to understand your why. This will serve as your motivation to help you when times get tough. When you discover your purpose and build a business that is in alignment with your values it will help you to have the impact you desire in coaching. For example, if you are a woman who was bullied by a narcissist, once you overcome that you may feel passionate about helping other women in that situation to claim their personal power and overcome it as well.

Ask what your gifts are. Find out what truly matters to you. What situations have you been through that uniquely qualify you to coach on a certain subject?. What huge wins have you had in life that you could share the secrets too?
When you live your higher calling, you will feel so amazing. It's like the stars are in alignment. People will see the stars in your eyes and feel the fire in your soul. You are about to embark the path to living your purpose. Nothing can be more fulfilling. You are destined for great things. You are sharing the gifts you are meant to share in this world.
Business Plan. Most coaches have coaching expertise but don't know how to go about the business side of things. 80% of your time will go to sales and lead generation. You'll need to learn how to deliver, the keys to lead generation, and how to sell.
Here are 3 things you don't need to start a coaching business. You don't need a fancy website, a book, or a podcast. What you need is a coaching business plan that serves as an outline to follow and provides valuable information to use when constructing your own plan for your coaching practice. It helps you set your goals and serves as a road map to building your business. If you have never created a business plan before you may be unsure of what to include. So grab a notepad, a tall cup of coffee, and a quiet place to think.
This will include a vision, mission, description of your company, strengths, weaknesses, niche, services, billing methods, website, competitive research, positioning, expenses, target market, marketing strategy, and financial projections.
Once your business plan is developed don't just let it sit in a drawer. Use it as a blueprint to guide your business as you build it. I hope as you look at it that you feel exhilarated knowing that you are holding the plans to your coaching dreams in your hands.
Market Research. Before you jump in your coaching business, you need to get a sense of who is already in this space. The market has attracted many would-be coaches, who want to leverage their life and work experience to start a coaching business. Do a quick search on coaches and you'll see thousands of other coaches. You'll quickly see the importance of choosing your niche. It's easier to be a big fish in a small pond.
Performing market research can literally determine whether your business thrives or fails. Define who your target audience is. What are their pains? What does having their pains cost them? Who else is serving this market? What offerings do they have? What is their messaging? How are your offerings and messaging unique? What qualities would they look for in a coach for your niche? What experience and qualifications do you have that uniquely position you to serve that market? What results have you created for yourself and others. Do you have a unique and proprietary system that promises results in a certain timeframe? It's really important to have the answers to these questions. If you can't answer or articulate the answers, then you won't be able to communicate that effectively to your audience. Create a Vision for your Coaching Business. After hashing out the numbers on your business plan, it's important to cast a vision for your future success. Your vision statement helps you capture your thoughts and desires about what you're creating. Imagine if you had a magic wand and waved it, what you would be doing, how you would be making a difference, the type of impact that you would be creating.  
I am statements are a way to unleash power to make your vision come true. It helps you to make more aligned decisions, fueled by higher energy, leading to more dramatic results. The way to make a really powerful and helpful I Am statement is to get clear about what you want to create in your reality, imagine yourself there now, and then describe it beginning with the words, "I am."
Here's an example: "I am coaching clients to embrace their dreams, overcome obstacles, and harness their full potential. My purpose is to change the world, one person at a time."
Your vision statement will serve as a powerful inspiration tool. When you feel discouraged, frustrated or down, you can draw upon your vision statement to get you through and re-energized.
Assess Your Skills. You may be a natural when it comes to listening to friends or family and helping them with their problems. But the skills you need to coach and the skills you need to build a business may be different. Once you develop a good list of skills. and identify any immediate gaps. Develop a plan to fill those gaps.
Another route is to work with a coaching mentor who has built a successful business practice like the one you desire to build. Find a mentor you resonate with. They can help you build your coaching business faster with less work. Having a proven blueprint to follow makes it easier to get the success you desire quickly.
If there are any skills you lack, you can either train to learn those skills or outsource them. For instance if you hate accounting, hire a bookkeeper. If you aren't artistically gifted, hire a virtual assistant to create social graphics for you.If you know nothing about website coding, hire a freelancer to get you up and running. If you aren't a writer, hire an assistant to write your newsletter and blog articles. Do what you do best and outsource the rest.
From Side Hustle to Full Time Coaching Gig: Are you starting your coaching business from scratch? It can take a bit to get your business to the point where you are earning a living. So how do you transition to working in your business full time? Begin by tracking your current expenses, especially your basic living expenses. What is your target for monthly revenue? How many hours a week do you want to work? Be clear about how much money you have to earn before you can pay your bills.
The first is to build up some savings you can draw off of as you start your business. Some people moonlight in their coaching business doing it on nights or weekends as they remain in their full time job. Then when their business is thriving they can pull the plug on their job.
Work on getting your first coaching clients. Coach a few to get some testimonials to include in your marketing materials. Set the intention to study, read, learn or experience at least ONE thing that has to do with coaching, every single day. You are on your way to building a thriving coaching practice of impact, income and freedom.
Set up your Coaching Business. How do you create an unforgettable name for your coaching business? You want to create a name that creates a lasting impression and truly sets you apart. You can use your name as your coaching business name. That's what I did with https://zanderfryer.com. The great thing is you probably don't have to fight to get your domain name.
Another approach is to name it after what you do like, The Copywriting Coach. Some people use the title of their book as their company name. You can choose a name that promises the results you deliver like 7figurecoachin12months.com.
Choose something that sets you apart. For instance if you are a company that helps businesses position themselves in the market, you might be Find Your Red Tux. The owner's trademark would be always wearing a red tux when he speaks.
Make sure it's easy to say and spell. If you can't get the .com consider getting another domain name. You don't want competition with a name that is similar to yours.
Bounce your company name ideas off on your colleagues and friends. You want to get a feel good reaction that shows your business name strikes a chord with them.
Set up Business. You need to set up a legal structure for your coaching business. What are your options? Which one do you choose? How do you set that up? An accountant should be able to help you answer these questions and choose the right kind of legal entity for your coaching business.
Check to make sure no one is using your business name. Before you go investing in a business, trademark, domain name, and legal entity you want to make sure legally someone else does not have a claim to that name.
Perform a Google Search for the name you want to use. Is it in use already? Is there a registered trademark setup for that name? If someone in the same market space has a similar name you may have to find a different name.
When you find a name that is free to use, you can decide on a legal entity. The two most common are an LLC and a sole proprietorship. Next file as a DBA (Doing Business As) in your state.
Know your legal rights. Setting up as a separate legal entity from your personal name provides you separation legally if someone goes to sue you.
Lastly, keep your business finances separate from your personal ones. Get a business checking account. This provides you a clear paper flow of all income and expense transactions that occurred in your business.
Offer Statement. Have a clear offer that tells people what you do. For instance, ours at High Impact Coaching is "We help coaches build profitable businesses". A middle schooler could understand what we do. Is that true for most life coaches? Not when they are starting out. So create a clear I help X do Y statement for your coaching.
No Coaching Certification Required.
To be a coach you either need experience or expertise. It's out of integrity to be a coach if you haven't helped someone else do it or you haven't done it yourself.
You do not need a coaching certification. In fact there are some dangers of getting a certification. A lot of people get certifications because they think that generates you leads and makes you credible. It actually makes you a commodity. You are lumped in with a lot of coaches. You are one of a group. Clients will shop by price because you aren't any better than the next coach.
Set up your Coaching Website. When you are first setting up your coaching business it's better to be lean and mean. You can always grow your coaching website as your business grows. Some coaches start out with nothing but a coaching Facebook page to get started. This is why we don't recommend setting up a website in the beginning, that can come later.
However, one of the easiest website platforms to get started with is WordPress. The pages you will need are Home, About, Services, Discovery Session and Contact. As you grow you can add a media, speaking, programs page as well.
The home page should say who you are, what you do, and what benefits people will get doing business with you. You'll want to have an email sign up to capture prospects contact information.
The about page should share the story of what unique experiences you have been through that qualify you to be a coach. Who you are passionate about working with. The results you have created for yourself and others. This will build credibility and connection with potential clients.
Services page can list what coaching programs you offer including individual coaching, group coaching, memberships, webinars, and VIP days. Include any products you are offering too.
A Discovery session invites prospects to have a short exploratory conversation with you to see what their challenges are and how you could help. Then you can enroll them as a client into a program that's a fit for their needs.
The contact page can share an email address or contact form that they can use to ask you a question. It's handy to offer a link to a calendar program like Calendly so they can select an appointment time that works for them with your open slots.
As your coaching practice grows, you will want to add a media page. This shows what your area of expertise is and how a reporter could use you in a story. You can list talking points that an interviewer could use. Have a short bio. Post a high resolution publicity picture they can publish. List any other media that you have been featured in. Offer a pronunciation of your name if it is difficult. Share the best way to reach you to schedule an interview.
A speaking page will list the keynote speeches, workshops, and break out sessions that you offer. Share testimonials from groups that have seen you speak. Show a picture of you speaking in front of a group. Give a verbal description of what you are like as a speaker. If you have a short video of you speaking, post that here. Meeting planners want to see for themselves that you are a powerful speaker.
Social Media. It's time to set up your social media channels. You want to keep your coaching presence separate from your personal social presence. Look at the platforms available and see which ones are the best fit for your audience. Let the people in your personal circle know about your new social channels and invite them to connect.
Create a content calendar. Choose different themes that align with your sales goals. Use images and video to make your posts stand out. Offer a good mix of value versus sales posts. You want to be known for being helpful, not for always pitching something. Share freebies, content you have created, infographics, videos, and blog posts. Develop a set of hashtags that you use. Keep an eye on your statistics to see what content gets the most likes and shares.
Take time to respond to comments and questions. Doing this can transform readers to raving fans. Make them feel special, noticed, and part of your tribe.
Don't forget to make it up close and personal. Show behind the scenes photos. Give peaks at programs you are developing. Show where you are speaking. Make the audience a part of your inner circle. Social media is an excellent platform for sharing your brand and interacting directly with your customers.
Getting First Clients. You need a reliable way to get coaching clients. Start off coaching a couple of clients for free. This will help you master your craft and get a few testimonials that you can use to build your business.
The key is to get out there, be seen, and start helping people. Connect with potential clients by finding online communities where your clients are and introduce yourself. Let them know who you are and how you can help.
Offer a free webinar that shows your expertise. Lead a free workshop at your local library. Present a short talk for the local chamber of commerce. Write blog articles answering the biggest questions your audience has. Network locally to connect with potential clients. Offer discovery calls to enroll clients. Teach your friends, family, and colleagues what you do and who your ideal clients are. Offer a referral fee. Build referral partnerships with someone who offers complementary services to yours. Send out a warm introduction to everyone in your network sharing your new business venture and what kind of people you help. Write a free e-book to give away to prospects.
Bottom line, you know that you have everything you need to make a real difference in someone's life. Hold that belief strong in your heart as you go out to find people you can impact.
Setup Coaching Offerings. It's very hard to make a living offering one on one coaching. It limits your income greatly by the rate you set and the amount of hours you can coach. A better approach is value based coaching. The key is to provide solutions, not services. You don't want people shopping for a coach by price. Instead you want them to see the value of the transformation that you can offer.
Who would you rather hire, a weight loss coach at $200/hour or a program to Lose 20 lb in 30 days?
Both options are taught by experienced coaches, and each offer a 1-hour lesson each week. Sure, the second option is literally double in price than the first. But you want to lose weight fast, and the second option ensures you'll learn how to lose weight quickly.
Your clients have a specific problem. By packaging your services into a system that solves that problem, you can charge far more—even if it's the same number of hours on your end. If you want to create a winning results-based coaching or consulting package, you must first ensure that you can get results in the first place. Take these steps to to ensure what you're coaching on will actually deliver—and that it's addressing a real need
Charge what you are worth. Many new coaches don't charge enough for their services, which leads them to max out on the time they spend coaching and drives them to becoming overwhelmed and getting financial stress.
When people see you as a specialist, they are willing to pay more to work with you. You attract higher quality clients. They are willing to work harder to implement your coaching. Your clients get better results. You earn more working less.
After I quit my corporate job, I started my coaching business from scratch. I was able to turn up a 6-figure business in under 4 months and hit my first 6-figure month within 12 months. You owe it to yourself — and your clients — to increase your rates, own your power as a coach and grow a thriving business.
Know you are worth it. Part of charging more starts with the mindset and belief that you are amazing at what you do and totally worth it. You can't see a client on a high ticket program if you don't believe yourself it's worth it.
Value is worth it. Don't see your price as a bill given for service. See it as an exchange in value. When you know in your heart that the value you are delivering is worth more than the price, you can feel awesome about the exchange.
Better clients are worth it. Do you want tire kicking low end clients? Or do you want clients who are truly fulfilling to work with. They are the ones that light your soul on fire and gladly pay you what you are worth.
Recurring Revenue. Smart coaches know that the way to earn more without working harder is to leverage what they know into recurring revenue. Find ways to share your knowledge in subscriptions that you can put on autopilot.
Develop a weekly autoresponder coaching program that you set up and forget. People pay a monthly fee. They get automated lessons.
Create a video course. Record a webinar to enroll clients. Then they can access your pre recorded programs inside a password protected course area.
Design a membership program with new monthly learning materials, expert guests, and a private Facebook group.
Create your own app or software that makes performing a function for your area of expertise easy.
Setup a 6 month coaching program. Offer an easy pay option that breaks it up into installments.
There are so many ways to package your intellectual property in a way that you earn money while you sleep. When you create a consistent cash flow model that generates recurring income, it can help ease your mind and reduce financial pressure, which frees you up to do what inspires you.
Ideal Clients. You could have the greatest product on earth, but if you're trying to sell it to everyone—you're never going to hit your sales numbers. You need to create a specific client avatar that helps you truly identify who you serve. You will find when you have a specific person you write your marketing for that the message gets more personal and connective and converts way more effectively.
Are you struggling to create a buyer persona? You need to identify who is your ideal customer? What income do they make? What magazines do they read? What is important to them? Are they married or single? What is their education? Where do they hang out? What is their age? What gender are they? What are their values and beliefs? What are the greatest challenges they experience?. The time that you invest into creating this persona will greatly enhance the success of your marketing messages.
Develop a Marketing Plan. To get more clients, you need to figure out where your best clients come from and where your ideal clients can be found in large numbers and inexpensively. Creating a structure around your marketing and creating a calendar and a system to keep you on track is massively important.You need to map out a plan of what you will do daily to get clients. Make a list of the marketing channels you will use to find your ideal clients.  
Out of all the available marketing channels which ones will you focus on to market your business?: website, seo, blogging, Facebook, LinkedIn, Instagram, Twitter, Pinterest, pay per click, speaking, email marketing, podcast, networking, direct mail, free coaching calls, webinars.
Pick a few marketing channels to focus on. Set goals. Create a content calendar so your marketing is in alignment with your sales promotions. What will you do daily, weekly, monthly?
Now you have a system. You know what channels you are using, what you are writing about, and how often you are doing it.
Systematize your marketing and sales processes. Branch out of online communities to drive more potential clients through your marketing and sales systems.
Hire a Mentor. Hiring a mentor just may be the smartest decision you ever made. Most coaches are great in their area of expertise, but having a successful coaching business requires two things: coaching expertise and business expertise. Unfortunately that's where many coaches fall short. They've never built a successful coaching business before, so they don't know how to do it right.
Hiring a mentor, coach, or consultant is a smart decision. It's an investment in yourself you will not regret. How awesome that you can hire someone who is already having the success you desire to tell you step by step how they did it. You can avoid the pitfalls. You can get there faster.
A mentor can help you get the mindset and expertise to grow your coaching business more quickly. It's not just about knowing what to do. It's also about knowing who to be to grow your business. You need to overcome doubt, self sabotage, and limiting beliefs. A mentor can help you break through the internal barriers currently stopping you from multiplying your income. As you increase your confidence, you'll put an end to your struggle so you can finally create the success you deserve.
A mentor will show you how to scale your business. You'll discover how to better leverage your time to spend less time client facing whilst producing the same or better results for clients.
Discovery Session. One of the easiest ways to enroll clients is by offering a discovery session. This is a free consultation where you speak on the phone to potential clients. You find out what they are struggling with. You share how you could solve their problems and enroll them in a program.
Be active online and offer to help people. When there feels like there is a connection you can send them a note offering a free discovery session. Here's some sample wording:
"Want to boost your Mind Power? My gift to you."
Apply for a COMPLIMENTARY Discovery session to embrace your emotional power and create a life that truly excites you!
In our private phone conversation, we will get clear on your goals, where you are now and what it is going to take to get you where you want to go. In this session, you can ask questions and get to know me better and it will allow me to see if you qualify for one of my programs as a potential client. Grab your free spot here (link)
P.S. I have limited availability for these Discovery Sessions in my schedule so these sessions are really reserved for people who are seriously considering working with me. (link)"
Compelling Story: A brand story recounts the series of events that sparked your coaching business inception and expresses how that narrative still drives your mission today. If you can craft a compelling story, your prospects will remember who you are and feel more connected to you.
A compelling story includes the following parts.
Attention grabbing headline. This is like the headline of a news story. It explains the essence of your story.
The Backstory. This reveals your humble beginnings. It explains what your situation was before your life transformation.

The Defining Moment. This is the aha moment when the light bulb went off and you realized what the answer was.

Results. You share what happened when you hit it big and became a success in your own life.
Going Big Today Success Story. Tell how you applied your proven formula to help others achieve success and the results that they achieved.
Signature Program. Signature Programs are uniquely you and reflect your values, philosophies and ideas. It's something you have developed through your own insights and successes. It features your own tools and findings. It distinguishes you from other coaches in your field.
Creating a signature program helps you attract high end clients and generate multiple streams of income online. While anyone can package information together and teach it. What will set your program apart is that it's easy to implement and gets proven results.
First identify your core area of genius. What's the one thing you do better than anyone else? How can you name and package it in a way that ties into your branding and story?
Set aside time to design, develop, package, price and deliver your signature program. Running a test group can help you adapt your program to fill in the gaps and ensure you have a solid offering. Plus it helps you get testimonials you can use when you launch it. Once you package what you know into a high-value signature program you can immediately use it to create high-end clients and generate multiple streams of income online.
Start a Facebook Group. Running a Facebook group is one of the best ways to start and grow a vibrant online community for your coaching business. It allows you to become a discussion leader, facilitator, connector, and resource for people that can help you reach your business goals.
Facebook Groups allow you to connect and engage with your audience in a two-way conversation…to find out their biggest struggles, offer support and education, and establish familiarity and trust.
Before you start the group you need to think of what the focus will be. The more specific the focus of the group, the more likely you will attract prospects that are a match for that. When people join your group, give them a way to immediately join your email list. I recommend offering a freebie.
Set clear expectations about what the group is about and what the rules are. If you don't some people will jump in the group and start promoting themselves. Make it clear what is acceptable and enforce your rules when people violate them.
Simply having a Facebook group isn't enough. If you're constantly just promoting your stuff in your group, or not responding to questions, or not posting stuff that resonates with your audience, your group isn't doing you any good.
Hold regular Facebook Lives in your group on topics that are of interest to your audience. Also, holding frequently asked questions sessions are fantastic for boosting engagement and establishing yourself as an expert in your field.
LinkedIn. This social platform is making it it easy to find, engage and connect with potential clients. The first step is to fully fill out your Linkedin profile. Use a headline that includes keywords that people would use to find you. For instance my LinkedIn profile says CEO | Creator of High Impact Coaching | Coach to 400+ Coaches | TEDx Speaker | Best Selling Author
Add an appealing professional headshot. This sets a powerful first impression. Get recommendations from clients and colleagues who have worked with you. Include your phone number in the summary section.
Fill out the skills section with the appropriate information. These act as keywords when potential clients look to find you. You can choose up to 50 terms here. So make them count!
The next step is to join Linkedin groups where your target clients would hang out and contribute in those groups. The goal is to help, not to promote. When you have shared considerable value you will be surprised at how others reach out to connect with you.
Publish and share your articles on Linkedin. That provides an outlet for potential clients to get to know you and see your expertise.
Scale your Coaching Business. As your coaching business gets more successful, you'll need to look for ways to scale your business so you can manage the growth.
You'll need to start building a team. Start handing off tasks that you aren't good at or don't enjoy. Your key goal is business development and generating income. Everything else can be outsourced. Get a virtual assistant to handle your calendar, travel and email. Get a webmaster to handle website updates and SEO. Get a marketing assistant to handle your social media, newsletter, and email marketing. Get a customer service representative to handle questions from customers who have purchased your products. Get an accountant to manage your finances.
Create systems in your business. Develop a proven process you can hand off to your team when managing tasks so they get predictable, reliable results.
Promote more group coaching, programs, masterminds, and retreats. Instead of sharing your knowledge one on one, find ways to leverage your information and extend your impact. Plus, you can create recurring continuous income streams. It's easier to sell one package to 20 people for six weeks then to find individual clients to serve and bill for that same time frame.
Wheww, that was a long one…. Now it's your turn to put all of this into action and get after your DREAMS! Good luck!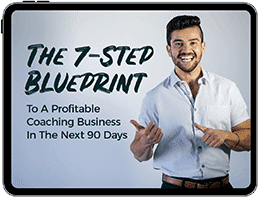 The 7-Step Blueprint to
a Profitable Coaching
Business in the Next
90 Days