How to Become a Successful Relationship Coach (What You Need to Know!)
Let's face it, getting dumped sucks. Dumping someone sucks. Sometimes curling up in a blanket while eating a gallon of ice cream can be your only comfort when you lose someone that you thought could be the one. Finding lasting love and sustaining a healthy relationship can be difficult.
Everyone experiences problems in their relationships from time to time. For many, it's a relationship struggle like that which led them to want to become a relationship coach. When you discover lasting love, it inspires you to want everyone to experience that for themselves.
Want to make a difference as a relationship coach? If you are looking to become a relationship coach, you won't want to miss our tips below. They will help you get your relationship coaching business up and running quickly and off to great success.
What Motivates You?
When you start a business, it becomes your ball and chain. There will be exhilarating moments that light up your soul when you help someone heal their heart. There will also be more challenging moments when you feel stressed and frustrated.
That's why it's so important to get really clear about why you want to start your coaching business. It's amazing when you can do work that is deeply fulfilling and you feel like you are making a difference.
So why are you passionate about helping people have better relationships? Have you always been a matchmaker? Do you love helping people resolve conflict? Or do you just believe that everyone is deserving of love? Maybe you escaped an abusive relationship and went on to find a loving and respectful partner. Did you help a friend cope after their spouse passed away?
When you tap into your "why" it will motivate you when times get tough. There will be times when you may struggle in your business. Your passion will serve as the fuel to help you overcome the challenges. You have very special gifts. It's your job to share them with the world.
Relationship coaches work with both singles and couples. They help clients identify and reach their goals. They help individuals improve their communication skills and conflict resolution strategies.
Imagine helping people to experience deeper, more fulfilling love by working with them on identifying and addressing the following things:
Define who you really are
Understand and express your needs
Identify any emotional blocks
Heal old wounds
Attract your soulmate
Identify unhealthy patterns
Recover from breakup, divorce, or loss
Understand your partner better
Speak your partner's love language
Stop jealousy
Communicate more effectively
Love more deeply
Resolve conflict
Creating effective boundaries
Avoid relationship mistakes
Improve self esteem and confidence
Reclaim your personal power
And much more
Most Coaches Are Talented in their Skills, But Not at Growing a Business
Most of us get our models for love and relationships from our family and parental situations. Sometimes that is great. Sometimes we learn dysfunctional ways of relating with others. Not everyone is good at maintaining healthy relationships. Sometimes we need to learn new healthy ways of relating.
Similarly, while you may be naturally gifted at communication, conflict resolution, and coaching others with relationship advice, you probably lack knowledge about how to build a profitable relationship coaching business. In fact, many relationship coaches fly by the seat of their pants when it comes to growing their business. They waste a lot of time, energy and money building a business model that doesn't work.
That's why it's strongly recommended that you work with a mentor coach who can help you set your coaching business up the right way. They can show you proven methods for getting clients, enrolling them in programs, packaging your services, and building a full time income. From teaching new sales methods, to offering direct feedback on packing your services and everything in-between, coaches can make a significant difference. 
Plus, you probably have some questions you want answered.
Is it possible to do what I love AND make a good living?
How can I get leads for my relationship coaching business?
Can I earn a full time living doing this?
I am skilled at relationship skills, but don't know much about sales and marketing. Can I do this?
What is the best way to package and price my services?
You have a massive vision of what you want to accomplish. You picture yourself with a feature article in Marie Claire magazine about "Simple Secrets of Happy Couples". But when you think about it, your vision is much bigger than what you know how to create.. In fact, you wonder if you may be kidding yourself. But then you realize that even Dorothy in the Wizard of Oz had Glinda the Good Witch to help. You know that if you found someone who believed in you and could show you the way, that you would really shine.
A mentor coach has a proven track record of helping coaches just like you build a high profit, high-impact coaching business. They are business rock stars who can show you the fastest ways to quickly increase cash flow and develop a more profitable coaching business. 
I mean even Rocky had a coach. Mickey helped get Rocky in shape and develop the strategy to win. Similarly, a mentor coach can accelerate your impact in a bigger, more meaningful, and more profitable way.
Coaches help you create better results while staying true to your talents and lifestyle goals. They can help you design a leveraged offering to quickly take your business into the high six figures.
Spread the Love:
Create customer love. Offer great customer service to your relationship coaching clients. When you go the extra mile for clients, they love referring others to you. When you finish a project ask your customer if they know anyone else who could use your services. Reward customers who send you a referral.
Connect with partners who love what you do. Find referral partners. Identify businesses with complementary (but not competitive) services that you could become referral partners with. Make sure they understand who your ideal customers are. Keep in touch regularly with these partners so they remember who you are. Remember givers gain. If you send them a referral first, they are more likely to reciprocate. Offer to pay a referral fee for prospects who sign up.
Tell your inner circle you are doing what you love. Email a warm introduction letter to the people in your network. This can go to friends, family, former colleagues, professional contacts, all your vendors. Announce the start of your new relationship coaching business. Tell them who your ideal client is. Let them know your top services you offer. Tell them if you do in person coaching, virtual, or both. It's actually a lot of fun to reconnect with people from the past. Plus, you never know how you could end up helping each other.
Show some LinkedIn Love. Update your LinkedIn with your new relationship coaching business information. Post that you have room for 1-2 new clients and what ideal clients you are looking for. Post the same on your other social media networks as well.
Name your Business:
Now that your new business is underway, it's time to pick a name for your business. You can use your personal name "Jane Robbins Coaching". You can create a name around what you do like "Open Hearts Relationship Coaching". You could choose a specialty name like "Find Love in 30 Days".
Once you choose a name perform a Google search to check that the name is not already in use. Also check to make sure no one in your state has the same name. You would hate to be JaneLoveGuru.com if JaneLovesGurus.com is taken.
If you see a dot come name you love, lock it in. Good domain names sell quickly. So don't put off grabbing your name or you risk losing it. Brainstorm multiple variations of your name till you find one that's easy to say and spell. Then snag the perfect domain name. Congrats! You are now a domain name owner.
You'll want to file for a DBA (Doing Business As). The county you live in usually requires that you publish a notice that runs a few times in one of the local newspapers. Once your DBA is secured, you can start a business checking account in your new business name.
Sales and Marketing: Building your Little Black Book
Remember the nervousness and sweaty palms you get when you talk to a new love interest? When you have confidence and know what to say or do it's easy.
As a business owner, you will spend a lot of time prospecting for leads. Generating leads and learning to enroll clients is key to making a good income. But before you go searching for clients, you need to do some planning. 
It's important to know who your ideal relationship coaching client is? What keeps them up at night? What are their needs? What's on your perfect client checklist? When you know who your ideal client is you can speak their love language and attract them. It's way more fun when you can work with clients you love.
When you can woo your perfect clients, build a warm and fuzzy connection, and help show them you'll cure their love woes like magic, you can build your practice fast.
Show up and shine at local networking events. You are amazing. You need to let your local peeps know what you do and who you help. Imagine having 25 sales people in your town singing your praises. When you both promote each other, your business will grow fast.
Connect with people on Facebook and LinkedIn groups. There are so many people who need help with relationships and love. Listen for posts where you can add your advice. When you share your helpful advice, people can't help but feel the love. They will reach out to you with a private direct message and want to know more about what you do. Find groups focused on love and relationship issues. It could be surviving narcissists, coping with grief, parents with kids, singles groups, and more.
Go to local events. There's a special chemistry that happens when you meet people in person. Some people become friends. Others are referral partners. Some can even be future clients. The people you meet at local events are stellar. So go for the refreshments, but stay for the lovely people you will encounter.
Consultation calls are like a first date with a potential client. You connect over the phone. You find out their backstory and challenges. You assess if they are a client you'd enjoy working with. You share a picture of how you can help them. If you like them, you can sign them on as a client. If you see red flags you can refer them to someone else who is a better fit.
Word of Mouth Marketing:
How many times have you asked around who the best hair stylist, doctor, or nail salon is? People love to make buying decisions by surveying their friends and family on who they have tried, love and use.
Word of mouth is the cheapest, simplest, and most consistent way to grow your business. As a relationship coach, word of mouth can help to spread the word about what you do and boost your reputation quickly. This allows prospective clients a way to know, like, and trust you before you've even worked together.
The best way to have people recommend you consistently is to provide a remarkable service to people who are hungry for it. When you over-deliver with your coaching, it becomes easier and easier to get new clients. Current prospects and clients who've experienced your work are excellent referral sources because they can speak from first-hand experience.
When you have a client who is raving about you, see if they would give you a testimonial. Just tell them that they are your dream client and ask if they have more people just like them that you could talk to?
Add this to your email signature: "Please take a moment to review me on Google and Facebook."
Why not use your business card as a referral card too? "The best compliment you can give is a referral. We'd love to assist others like you, so please don't hesitate to send friends. Thanks in advance for your thoughtfulness!"
Connect regularly with the people in your network. These could be local business friends, people in your industry, or the Chamber of Commerce. Make an effort to keep in touch, see what's new with their business, and how you can help them. In turn, let them know any new offers, goals, and other changes in your business. Tell them who your perfect customers are. When you go out of your way to invest emotionally and help others, they will reciprocate.
Take your Relationship Coaching Business To the Next Level
You're smart, motivated, have a lot to offer your clients and love what you do. It's time you make more money. Your biggest need right now is getting a lot more clients consistently, so this is the time to work on your sale and marketing. You want to ramp up your business, and that means reaching more of the right people and attracting more clients.
There's no question that a full practice of high-paying clients makes all the difference when it comes to growing your business and selling your products and services. So, how do you find the ideal clients–starting now? It's easier than you think. Let us show you!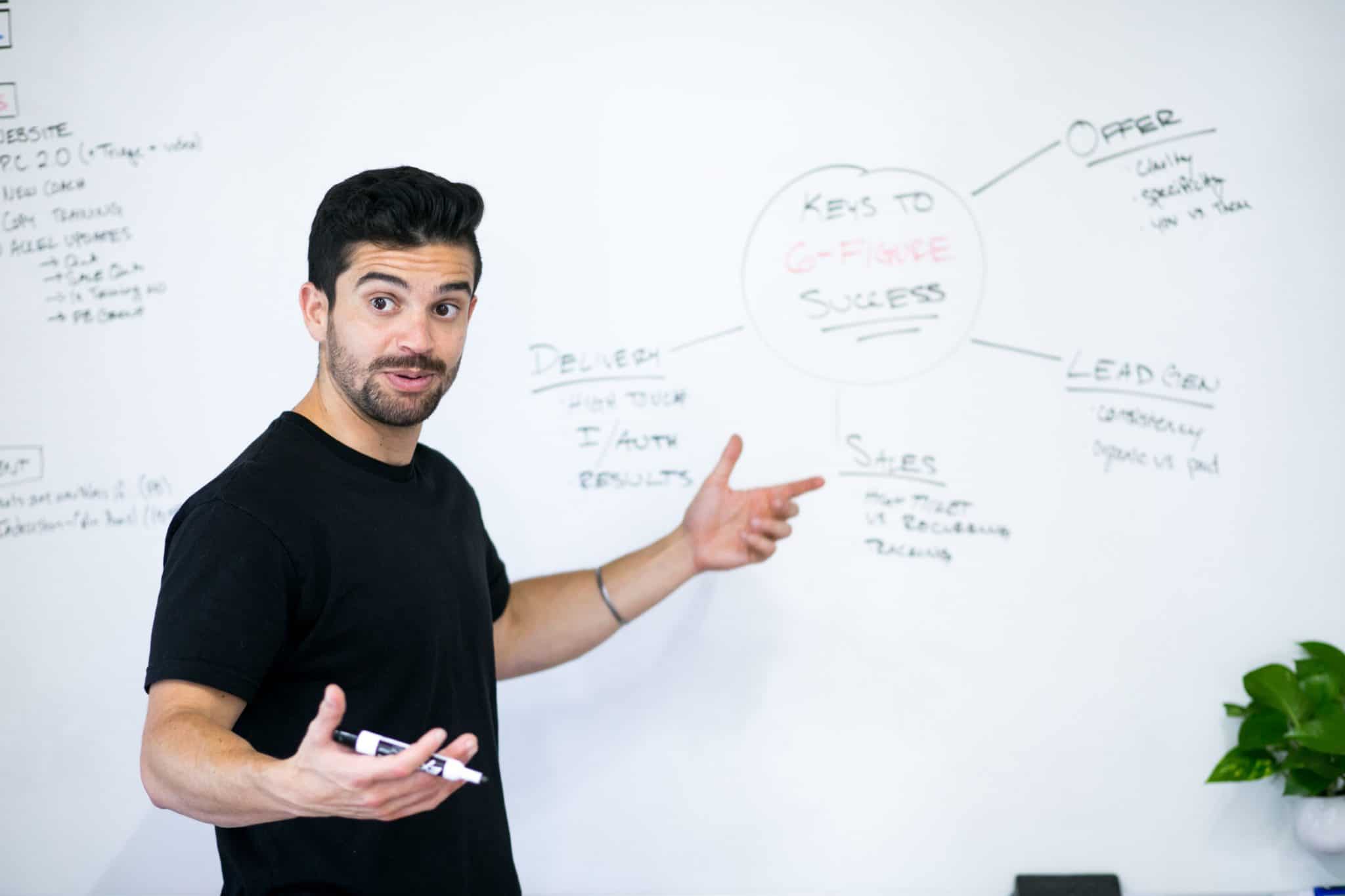 My High Impact Coaching program inspires and empowers people like you to get the skills, strategies, and tools to do what they were meant to do— to have the impact they were meant to have. I am ready to help you change the face of our world for good.
Ready to Take the Next Step?
Book a free clarity call, and let's see what you'd need to focus on to take your business to the next level.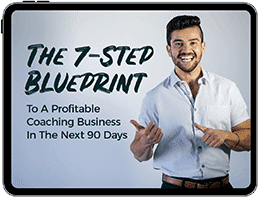 The 7-Step Blueprint to
a Profitable Coaching
Business in the Next
90 Days