Do you want more leads?! THEN stop doing this and start doing this INSTEAD! | High Impact Coaching
Discover these outstanding strategies that will help you grow your business as Zander Fryer reveals common mistakes that many business coaches advise. Learn how you can improve your inbound marketing so that clients come to you, as well as how to mix it with outbound marketing in order to reach more people than you can imagine. Feel encouraged to develop a closer relationship with your leads and potential clients in order to create momentum that will definitely increase your profit. These are the ultimate tips to bring more leads to your business!
——–
You will learn:
● Mistakes you might be making that keep you from increasing your generation.
● Strategies you must start applying to get more leads.
● Why your inbound marketing strategies are not working as much as they can.
● How to make the most of outbound marketing.
● Building momentum with your clients.
● Common strategies that many coaches use and never work.
● What you need to be willing to do to get leads.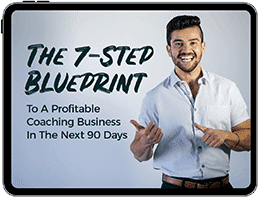 The 7-Step Blueprint to
a Profitable Coaching
Business in the Next
90 Days