How to Become a Successful Online Fitness Coach (What You Need to Know!)
Want to turn your passion for health and fitness into a successful career? Becoming an online fitness coach is an exciting business to be in right now! It's a personally rewarding career that offers flexible hours, the ability to do what you love, and the chance to help others achieve their fitness goals.
Being a virtual fitness coach allows you earn a generous income while following your dreams. All from the comfort of your home or wherever you choose to conduct your business, the beach maybe?
Why Should You Become an Online Fitness Coach?
Think for a second about the craze around Peleton. This exercise bike gained national fame by offering access to high-energy workouts that stream to you live and on-demand.
Look at the top fitness trends shaping the industry right now. 
The nation's worsening obesity trends have resulted in a strong demand for fitness trainers. A whopping 78.6 million adults in the US are obese.
The COVID-19 pandemic has a lot of gym patrons looking for safer ways to work out. It's causing hundreds of gyms and fitness centers to shut down.
Home workouts are on the rise. There's been a strong jump in the number of homeowners setting up exercise rooms in their homes. Now it's easy to pop in your headphones and work out with a personal trainer guiding the way. 
What truly excites you about becoming an online fitness coach?
Working out is an addiction. It makes you feel unstoppable. When you experience that, it makes you excited to help others experience it too.
Imagine being a fitness trainer and getting to:
Gain personal fulfillment by helping people reach their health and fitness goals. 
Lead a healthy, active lifestyle.
Build a powerful, meaningful career.
Work where you want and when you want.
Spend more time with your loved ones.
Dive into learning everything you can about health, nutrition, diet, and fitness.

Transform Lives As a Virtual Fitness Coach
As a fitness coach, you can promote realistic health and fitness goals for your clients. You'll be providing the encouragement, expertise, and accountability to help clients get results faster. A fitness trainer can design a workout that meets their client's needs. They can ensure their clients are doing moves correctly to avoid injury. Plus, they can do check-ins to keep their clients on track.
You can help clients become fitness fanatics as they:
Get in shape.
Feel better about how they look in the mirror.
Get rid of love handles and belly fat.
Get motivation and support.
Improve health issues.
Reduce stress.
Gain flexibility.
And more.
What Kind of Online Fitness Coach Would You Want to Be?
When choosing a fitness specialty, it is important to choose an area that you enjoy and are motivated to coach people in. There's a wide variety of options today for fitness coaches. You can specialize by type of exercise, health conditions, and age/demographic.
There are many types of fitness coaches. I am sure you have heard fitness coaches go by a number of different names including:

Bikini Competition Coach – Coaches on bikini and physique competitions with training, fitness, and posing.
Bodybuilding Coach – Helps bodybuilders shape and define their bodies.
Bootcamp Instructor – Provides strength exercises and cardiovascular training in a military style setting.
Cancer Fitness Coach – Specialized programs to improve health and fitness levels for cancer patients.
Celebrity Personal Trainer – Transform celebrities bodies for movie roles.
Cycling Coach – Offers training for cyclists from novice to elite.
Kids Fitness Instructor – Leads workouts designed to get kids up and moving.
Nutrition Coach – Provides nutritional guidance and helps build healthy food habits.
Personal Trainer – Helps people become physically fit through instruction, motivation, education.
Pilates Coach – Improves physical strength, flexibility, and posture, and enhances mental awareness.
Prenatal and Postnatal Fitness Trainer – Helps moms discover healthier food and fitness habits.
Senior Fitness Coach – Helps seniors stay active building strength, balance, and mobility.
Sports Fitness Coach – Improves athletes technique and performance.
Weight Loss Coach – Combines health and weight loss to help people get in shape.
Wellness coach – Helps people overcome obstacles to maintain healthy habits for life.
Yoga Instructor – Leads others in practicing holistic yoga poses.
Zumba Instructor – Teaches aerobic exercises featuring Latin dance moves.
How to Start a High-Impact Online Fitness Coaching Business
Sadly, without guidance, most fitness coaches end up overwhelmed and underpaid. That's why we wanted to offer some important steps to success.
Choose your specialty. This is based on your passions, experience, and expertise. For example, if you are a breast cancer survivor and use fitness to gain back your strength after treatment, then Cancer Fitness Coaching could be great for you. 
Brand Story. People want to know what makes you an expert. Your brand story shares a challenging situation you were in. You reveal the actions you took and the results that were created. Then you share how you are creating those same results for others now with your proven approach.
Positioning. You want to set yourself apart from the competition and establish your own unique identity that will attract new clients.Your brand identity includes everything from your business name, logo, and slogan. Clients want to know who you are, what you do, and what results they will get with you. Put that together in a powerful way that gets you noticed. 
Client Enrollment. You can pick up coaching and consulting clients in places like Facebook groups, niche forums, online bulletin boards. It allows you to engage with your target audience on platforms where they already like to hang out on.
Thought Leadership. Showcasing yourself as an expert starts with content. Listen to the challenges your audience has. Write social posts, articles, and freebies that answer these questions. Invest time developing a relationship as a leader in your field. Once you establish your expertise, you'll attract ideal clients at higher rates.
Don't Sell Coaching, Sell Results. People buy results, not a process. You will consistently get clients to hire you if you create packages that clearly solve your clients problems. Someone looking to find their dream job doesn't look for a career coach. They look for a "30 Days to Finding Your Dream Job" program to help them get the result they want in a guaranteed amount of time.
How to Start & Build a Thriving Online Fitness Coaching Business
Would you like to be among the highest paid online fitness coaches in your industry? 
You see, we started our coaching business four years ago. We've personally had the opportunity to work hands-on with hundreds of coaching professionals from all over the world. We were able to turn up a 6-figure business in under 4 months and hit our first 6-figure month within 12 months.
It pains us to see online fitness coaches struggling to make a $1000 gross a week and barely making a living.
Our mission is to inspire and empower an ARMY of conscious leaders and coaches to change the face of our world for good.
There is a better way. It really is possible to build a fitness coaching business that supports the lifestyle you dream of for you and your family. And that is exactly what our High Impact Coaching program is about.
We can help you get new clients, make more money, and manage a thriving business. We'll show you proven ways to build new relationships and become a next-level fitness coach. We'll help you build your fitness career from the bottom up so you can build a clientele, your reputation, and income.

Want to create a thriving fitness coaching business that allows you to pursue your passion for helping people while you also create your dream lifestyle?
We'd love to get you started on the right foot. Get in touch today!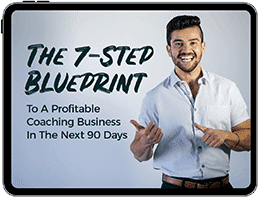 The 7-Step Blueprint to
a Profitable Coaching
Business in the Next
90 Days