How to Become a Successful Spiritual Life Coach (What You Need to Know!)
Do you know you're meant for something big and that you have so much to offer the world, but you don't know how to actually make it happen? If you are thinking of how to become a spiritual coach, in this article you'll find some valuable advice to make that happen.
Signs you were meant to be a Spiritual Life Coach
Do you yearn to do transformational work that serves others? Do strangers come up and tell you their life stories? Do you have a strong sense of intuition? Do you consider yourself a highly sensitive individual? Can you connect with spirits? Do you read Akashic records? Are you deeply tuned in to the feelings of people around you? Can you help people understand who they were in a past life? Do you hear messages from someone's soul, spiritual guides, or angels? Are you a manifesting master? Does this sound like you?
If so, you are uniquely qualified to help people live the life that they dream about – a life of joy, fulfillment, spiritual actualization and peace!
You know how to ask powerful questions. You have the power to help others survive through fear, anxiety, loss and devastation with the spiritual answers you can help them uncover. You can help them find clarity, overcome fear, and connect to their inner truth. Maybe you can help them find closure from past trauma. The inner truths you help others to discover can bring tremendous healing to those you serve.
Now that you have had your own success through personal transformation, you are excited about becoming a spiritual life coach. Wouldn't it be awesome to work with clients you feel a connection with? Imagine working in a way that gives you freedom and joy. You can help others to find the freedom and empowerment that spiritual connection brings.
Imagine yourself being interviewed on an Oprah SuperSoul session helping others to awaken, discover and connect to the deeper meaning of the world around them. As a spiritual life coach you create this transformation daily with clients.
Recent world events have led many asking how they can make a difference. You are in a unique position to help these individuals embrace their gifts, lift up their voice, and contribute to their communities.
As a spiritual life coach you'll help clients experience transformation as they:
Realign with the divine in them.
Become clear about their purpose and core desires.
Uncover their confidence, personal power, and gifts.
Claim their power to create the lives they want.
Dissolve any hidden barriers and subconscious blocks.
Tap into the power of gratitude to transform their life.
Engage in a career that's centered around their purpose and passion.
Attract wealth and abundance.
Attract a loving soulmate relationship with a supportive partner.
Transform their health and gain a body they love living in.
Experience a fulfilling lifestyle they love waking up to.
If you know you want to become a spiritual life coach and create profound impact… this article is for you. I will show you how to launch a successful spiritual life coaching practice and make a lucrative career out of it.
What's Needed to Become a Spiritual Life Coach and Make a Living Transforming Lives?
According to Life Goals Magazine, A spiritual coach is someone who helps you connect to who you truly are. They work with you to transform your life, uncover your desires, take steps towards your goals, achieve your dreams, bust limiting beliefs, and remove roadblocks.
The truth is that becoming a spiritual life coach isn't dependent on having an expensive credential or where you got your training. It isn't how fancy your website is or how much you spend on your marketing. The truth is that many of the most successful spiritual life coaches do not have any credentials or use complicated, expensive marketing strategies.
There are many types of spiritual life coaches. I am sure you have heard spiritual life coaches going by a number of different names including: mind body coach, spirit coach, soul purpose coach, meditation coach, angel coach, intuitive life coach, holistic coach, past life coach, akashic records coach, medical intuitive coach, law of attraction coach, conscious living coach, and mindset coach among others.
Working with people in a spiritual coaching capacity requires specialized expertise. While there are some certification programs available, you don't actually need one to become a spiritual life coach. What you need is spiritual gifts, and a way to monetize your gift to help people in need achieve transformation.
Growing a spiritual life coaching practice isn't always easy. That's why many struggling spiritual practitioners seek help to grow their business. So it's important that they work with someone with proven experience in mentoring spiritual coaching business owners. .
To be a successful spiritual life coach requires talent, passion, and business skills to market and grow their business. You need to learn the art of offering measurable value during a spiritual coaching session. Plus you'll need to attract and enroll a steady flow of clients.
What I do recommend is finding a mentor to help scale and grow your spiritual life coaching practice. While you may be an expert at your area of spirituality you have probably never built a profitable spiritual life coaching business before. So working with a proven business expert to get the tools, systems, and tactics to help you grow your spiritual life coaching business faster is a huge advantage.
There is ONE major differentiator between successful spiritual life coaches and coaches who are struggling.
That differentiator is what you sell.
Average spiritual life coaches sell coaching packages. Highly successful spiritual life coaches sell a very specific result for a very specific client. For example, instead of offering Law of Attraction Coaching, they offer a "Change Your Life In 90 Days with Law of Attraction" program.
HINT: That's one of the #1 things that I teach coaches in my High Impact Coaching Program.
To improve your clients results, you'll need to discover the subconscious and spiritual blocks that are holding them back. Once you help them claim their personal power, they unlock the key to achieving anything!
Here Are the Steps to Become a Successful Business Coach
What Motivates You? Do you know that you are here to do something greater with your gifts? Do you get great satisfaction in helping people heal from their emotional wounds? Have you helped others with your spiritual gifts and ready to offer this on a greater scale?
Build your Business Savvy. While you may have honed your spiritual gifts from a very young age, you probably don't know much about packaging your coaching or marketing yourself. Working with a business coach who has proven success helping spiritual coaches build six and seven figure businesses can shorten your learning curve.
Choose a Niche. Spiritual life coaches who are highly successful choose a niche to focus on. You can't be all things to all people. That waters down your message and appeal. But when you offer a highly specialized service to a narrowly focused target audience it's easier to become well known. As an example James Van Praagh is a well known Psychic Medium. His School of Mystical Arts is focused on helping people hone and monetize their spiritual gifts. Another example is Stacey Lynn Cripps, a gifted Spiritual Medium. Her specialty is helping parents to connect with the spirit of their children who have passed away.
Work your Network. Most spiritual life coaches find their first clients by working their personal networks. Start with the people who already know, like and trust you. Also ask for referrals. Once people know you, trust that you do incredible work, and know who you serve, they'll be happy to pass your name along to others who need your services.
Create Spiritual Life Coaching Programs. You need to create a list of the different spiritual coaching programs you provide. This could be for different areas of focus like readings, individual coaching, group coaching, workshops and other offerings.
Set Up a Business Facebook Page. The best place to start connecting with potential spiritual life coaching clients is on Facebook. Create your page. Fill in your about information. Add your contact information including phone number, email, and website address so potential clients can reach you.
Market your Spiritual Life Coaching Practice. Lead with your authentic brand and voice. People will respond to your vulnerability. Find a list of referral partners who offer related, but non competing businesses. Join social media groups where your ideal customers hang out and offer answers to questions they post. Get testimonials from people you have worked with that loved their experience with you. Create a free special report that people can download when they opt in to your mailing list. Promote yourself as a guest for podcasts that reach your ideal clients. Devoting regular time to market your business is really important to keeping your pipeline full. Here are a few tips to get you started.  
As a spiritual life coach you will need to:
Target your ideal client.
Set marketing goals.
Differentiate yourself in the marketplace.
Research what other spiritual life coaches are your competition.
Determine the best marketing channels to reach your target audience.
Create a marketing calendar to focus your sales and marketing efforts.
Compelling Story. People love hearing how you first discovered your spiritual gifts and examples of how you have used them to help others. Spend time crafting this story so you can tell it succinctly. Also create a version of this to include on your website or Facebook page. It helps people feel connected to you and builds trust.
Position Yourself as an Expert. When you are seen as a top expert, clients will be drawn to you. There's nothing like seeing a spiritual life coach on tv, hearing them on a podcast, or seeing them in a magazine to spark interest. Hosting local events or getting into the local media can also launch you into the spotlight. After all who would you rather see, a run of the mill psychic medium or New York's Top Psychic Medium?
When you look at the numbers it's apparent how many people need spiritual life coaching. The demand for spiritual life coaches has grown in recent years. Today, many people seek creative ways to deal with life's challenges. People look to spiritual life coaches as a way to heal their wounds and proactively better themselves
People are looking for a higher level of self-awareness, healing of past traumas, improvement in life quality, success in their careers, connection with lost loved ones, an increase in personal power, improved health, better relationships, more personal fulfillment, and more joy. As a spiritual life coach, you have the power to free them so they can fly.
Types of Spiritual Life Coaches
You may be wondering what type of spiritual life coach to become. There are a variety of opportunities for spiritual life coaches. Below are a few to consider. See what best matches your skills, experience and interests.
Mind, Body, Spirit Coach – Mentors clients towards transformation in the areas of physical, emotional, spiritual and physical health.
Soul Purpose Coach – Helps clients discover their true purpose to help them achieve a life of joy, fulfillment, spiritual actualization, and peace,
Meditation Coach – Teaches clients how to use meditation to discover their spiritual path, relieve stress, find guidance, and improve health and well being.
Intuitive Life Coach – Helps clients access their intuition to improve their life journey.
Holistic Coach – Works with clients to enhance personal development from a multi-directional approach by understanding the Mind/Body connection.
Past Life Coach – Leads clients to explore past life memories, increase self-awareness and gain insight into unexplained issues.
Akashic Records Coach – Gives helpful information to help clients access the collective consciousness for guidance and support.
Medical Intuitive Coach – Taps into the power of intuition to enable true healing potential of illness and physical conditions.
Law of Attraction Coach – Helps you direct your vibrational energy to what you desire through the power of your conscious and unconscious thoughts.
Conscious Living Coach – Empowers clients to become more aware, awakened and mindful.
Mindset Coach – Helps people to achieve their goals through clarity, insight and positive beliefs.
How to Scale and Grow Your Business Coaching Business
Wouldn't you like to be among the highest paid, most sought after spiritual life coaches in your industry? Although there are a number of successful spiritual life coaches, only a small percentage of these coaches are actually making a six-figure income.
Imagine impacting many with your message and attracting customers and clients from all over the world.
As a mentor coach, I see a lot of spiritual life coaches who struggle with staying on track with growing their business. I developed My High Impact coaching programs as a way to help coaches like you to get real results.
I'm going to show you exactly how I did it and give you that exact plan right here. LINK
High Impact Coaching is the fastest, easiest, and most reliable system for getting more spiritual life coaching clients than you can handle.
Wishing you big success!
– Zander Fryer 
Any other questions? Contact me. Let's see what we can do together.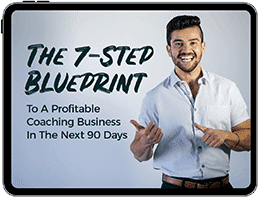 The 7-Step Blueprint to
a Profitable Coaching
Business in the Next
90 Days