How To Build A World-Class Podcast – With Travis Chappell
What's the key when creating a successful podcast? Whether you think it's about the equipment or the content, there are 3 little things that you need. Today, I'm talking with Travis Chappell, the definitive king when it comes to podcasting. He's revealing his secrets about growing a show as quick as possible and the ultimate hack that will skyrocket your podcast.
You will learn:
The importance of living the journey.
Finding your blue ocean when it comes to creating a podcast.
The greatest hack to build a successful podcast.
Adding value to your network is the key to skyrocket your show.
Why you must never edit your own show.
3 things you have to mix in podcasting.
Focusing on your content from the very beginning.
---
And whenever you are ready to get our help building or scaling your coaching business, here are some resources you can use below:
Check out our FREE 7-step video training to build a profitable coaching business >HERE<
Join thousands of coaches in our FREE Facebook community >HERE<
If you are interested in our programs to help you build a profitable coaching business you can review them >HERE< and set up a free 15 clarity call with one of our coaches to help see if we might be able to help.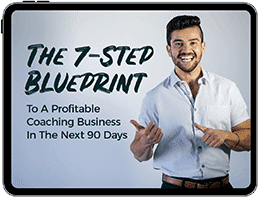 The 7-Step Blueprint to
a Profitable Coaching
Business in the Next
90 Days