The Best Social Media Platform For Lead Generation
Today, it's absolutely necessary to be on social media because everyone, including your ideal clients, are right there! But is it really necessary to show up on all platforms? I'm revealing which ones are the best for your business, as well as how to use them to have a greater impact on your audience!
You will learn:
What social media platforms your business MUST be on.
What works (and doesn't work) for each specific platform.
How to use Facebook groups to boost your business for free.
The type of audience you can find on Instagram.
Making the most of Youtube for building a brand.
Figuring out if LinkedIn is worth for your business goals.
Can TikTok help you scale your business?
---
And whenever you are ready to get our help building or scaling your coaching business, here are some resources you can use below:
Check out our FREE 7-step video training to build a profitable coaching business >HERE<
Join thousands of coaches in our FREE Facebook community >HERE<
If you are interested in our programs to help you build a profitable coaching business you can review them >HERE< and set up a free 15 clarity call with one of our coaches to help see if we might be able to help.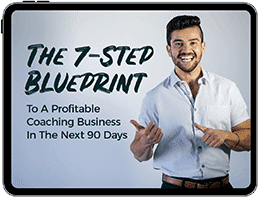 The 7-Step Blueprint to
a Profitable Coaching
Business in the Next
90 Days