Life Coach Salary – How Much Does The Average Life Coach Actually Make?
Becoming a life coach can be rewarding in many ways, most importantly it's about helping people to live their best lives. For those seeking a career in this space, it's time to focus on what the financial compensation can look like. How much can a life coach earn?
Below is a detailed breakdown of what the average life coach's salary can be, different factors that have an impact, and why setting up your own life coaching business is recommended when it comes to earning potential.
Average Life Coach Salaries:
Please keep in mind the numbers below are based on life coaching professionals who serve local clients or serve in a corporate life coach capacity in their local area.
* Below are average annual & hourly life coach salaries in certain states based on data from Zip Recruiter [1].
* Massachusetts ($65,406)
* North Carolina ($47,969)
* Illinois ($52,262)
* Maryland ($60,043)
* Alaska ($59,630)
* Washington ($64,336)
* California ($58,622)
* New York ($65,406)
* Florida ($50,376)
For hourly rates, the following numbers are commonly seen in the life coaching industry:
* National Hourly Rate ($32.07)
* Massachusetts ($31.15)
* North Carolina ($23.06)
* Illinois ($25.13)
* Maryland ($28.87)
* Alaska ($28.67)
* Washington ($30.93)
* California ($28.18)
* New York ($31.45)
* Florida ($24.22)
* National average hourly rate has been sourced from Payscale [2].
There are a few things that we teach life coaches in our High Impact Coaching program about what to do differently so that a life coach can earn $100,000 or more, even if they are just starting out. With our program, coaches can earn the same no matter where they are located. Click here to learn more details about why our coaches make much more than most. https://zanderfryer.com/programs/
Factors in Determining a Life Coach's Earning Potential:
1) Experience
The first variable that's going to play a role will involve your expertise in your area or other areas of life. You have demonstrated personal success in a specialty or helped clients achieve results.
While most coaches have expertise in their field, they lack the expertise to package and sell results which will build their business. Our High Impact Coaching program shows how to generate leads through relationships building, enroll clients, and value price your offerings.
2) Knowledge
Your industry knowledge and experience is always going to have a say in how much you can earn while being a life coach. While some coaches may "hang a shingle" because they are passionate about a cause, they lack real experience in that area to do so. When you have either conquered a situation personally or worked with clients to do so, you will have much more credibility than someone else in your field.
3) Location
If you are selling in person services to clients then your income may be limited to what rates your geographic area supports. For example, a Life Coach in a rural area may be forced to charge less than an LA, New York, or Chicago specialist.
However, if you offer virtual coaching it expands your market area worldwide. So you are free to charge what you are worth with value-based-pricing, regardless of location.
4) Salary vs Personal Business
What type of position do you want as a life coach?
An individual that is running a life coaching business themselves is likely to earn more than the average salaried professional. While this isn't always true, it is a common rule of thumb that is seen in the industry. Starting off you might not make as much as if you were working for a company, but over time with the right plan and strategy, your earning potential is unlimited.
Benefits of Starting a Life Coaching Business?:
One of the most advantageous and rewarding decisions a life coach can make is to pursue their own business. This is a wonderful way to network, build, and become a powerful contributor in the industry while helping others.
Along with adding tremendous value in the form of coaching new clients, it's also a wonderful opportunity to build a strong income base. Running your own business will get rid of the "middleman" when done the right way. While several challenges come with generating your clients, it can turn into a significant yearly income after a while.
A lot of modern life coaches can create 6-figure and sometimes 7-figure businesses. If you have the know-how and understanding of what being a life coach entails, it's a great option to progress. However, if you understand the business side of being a life coach, it will greatly expand your earnings. Your earning potential is essentially unlimited and you are going to have the opportunity to push towards new heights quickly.
Final Thoughts:
Being a life coach is an amazing option for those wanting to help others while earning a good salary. It's all about taking the time to figure out what's available and how to maximize your earning potential.
Each variable is going to play a role in how much you earn including your experience, know-how, and your business expertise.
Weigh the pros and cons of each detail and then pursue your next adventure as a contemporary life coach.
If you're truly serious about taking the next steps to become a Life Coach and achieving your dreams, our High Impact Coaching program might be perfect for you! Read more about our HIC program here – https://zanderfryer.com/programs
References: 
1) https://www.ziprecruiter.com/Salaries/What-Is-the-Average-Life-Coach-Salary-by-State
2) https://www.payscale.com/research/US/Job=Life_Coach/Hourly_Rate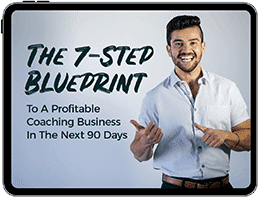 The 7-Step Blueprint to
a Profitable Coaching
Business in the Next
90 Days