How to Start a Successful Health Coaching Business From Home (The Ultimate Guide!)
If you are thinking about starting a successful health coaching business, you are in the right place.
A Health Coach is a mentor who helps clients improve wellness through food and lifestyle changes. Health coaches provide support and accountability around exercise, fitness, nutrition, and wellness. Today it's easier than ever to turn your passion into a thriving health coaching business from home. 
What made you want to become a health coach? Did you achieve major weight loss? Did you improve an existing health condition through fitness? Do you enjoy helping others to get fit? Or maybe you were just looking for a way to make money working from home?. Whatever your reason, there's a great need in the market for genuine health coaches.
Below I will share the steps to get your health coaching business off the ground and running.
Business Plan:
You wouldn't go on any trip without mapping out a plan. The same should be true of starting your health coaching business. A business plan is a road map that details your goals and how you plan to achieve those goals. In fact, businesses with a business plan were twice as likely to grow than those without one.
Start with a description of your business identity. Identify your target market. Research your competition. What marketing channels will you use? What revenue streams will you have? What expenses will you have? What partners, vendors and team members will you use to achieve this?
There are many advantages to creating a business plan. First of all it helps you see the big picture of your business. It also helps you set your priorities. Where will you focus your time, energy and money to best achieve your plan objectives? It helps you weigh opportunities that come with your way if they bring you closer or farther away from your goals.
Create a Business Name:
Now that you are ready to start building your business, you need a name for it. One popular option is to use your personal name. That's what I did with ZanderFryer.com.
Do some research to see what other health coaches have named their practice. Also check to make sure the .com is available in the name you choose.
You can choose a name that focuses on what you teach like "Raw Eating Coach", "Total Mommy Fitness" or "My Cancer Coach".
Do a brainstorm session to come up with a lot of names. This can be fun to do with friends or family. When you get a few runners up, test them out to see the response they get from people in your inner circle. You want a feel-good name that is easy to say, spell, and remember.
When you find a name you like, perform a Google Search to make sure it's not already in use. Then do a search with your local secretary of state to make sure no one else in your state is using that name. Make sure that your company name is not too similar to someone else in the same industry where it would cause market confusion.
An attorney can help you set up what's called a Doing Business As (DBA). A DBA helps you avoid potential legal pitfalls and name confusion. It allows you to have a business bank account even if you're a sole proprietor. They can help you do a preliminary name search. They will help you file an application for your DBA. Then you'll have to publish a notice of your DBA in a news publication from your local county.
Marketing Plan:
If you want a full health coaching practice, you'll need to start marketing right away. You need to create a structure around your marketing and a content calendar. Start with what marketing vehicles you want to use. Are your clients on Facebook, Linkedin, Instagram, Tik Tok or Pinterest? What kinds of groups would my clients be in online? Map out a plan for what marketing activities you will perform daily, weekly, monthly, and quarterly. What themes will you focus on?
I love to create a big year long plan on the wall to keep me on track. Then you list a new theme for every month that you'd like to focus on. You list social media content ideas and related offers for your health coaching services. This keeps your messaging focused. Plus, then you never have to scratch your head wondering what you will post or write about next.
Positioning:
While there may be a lot of other health coaches out there, there is only one YOU. So when you really lean in to who you are and what's unique about you, you instantly set yourself apart from the crowd. Your personal brand is a unique combination of skills, experience, and personality.
What benefit do you offer people?
What makes you different from others like you?
Where did you grow up?
What unique experiences have you been through?
How is your personality unique? Are you compassionate, bold, or analytical? 
Do you serve a special niche? 
Is there a unique approach to what you do?  
Ideal Client:
You are going to be a more successful coach if you first identify people who truly need and can benefit most from your coaching.
Let's break down exactly who your ideal clients are: age, gender, income, education, interests, geographic area.
Then, create an avatar around this person. Let's name her Jessica. She is a 32 year old mom of 2. She is a business professional who is college educated. She is interested in gluten free and vegetarian diets. Plus she loves meditation and yoga.
When you picture Jessica in your mind, it makes it much easier to write very targeted social posts and marketing pieces that really speak to her heart. Your audience will feel the intimacy too and feel like you are personally writing just to them. This is powerful.
Compelling Story:
One of my favorite marketing tools is your compelling story. Throughout the ages people have always loved the power of story. Story is how we pass along culture. It's how we teach things. And the best parts about a story is how fun they are to listen to. So much so that people can remember and retell them.
Creating a compelling story for your health coaching company will be an emotionally powerful piece of your marketing. It's about what situation you come from. What changes did you make that made all the difference. What results did that make in your life? When you started teaching this approach to others what results did it create for them?
Show where you were at the bottom
Tell what problem you needed to overcome
Share how having this problem makes you feel
Reveal the change process you went through
Talk about the results you realized
Share how you now teach this proven process to others and the results they realized
Getting First Clients:
Now it's time to attract your first health coaching clients. One of the easiest ways is to be in places where your ideal clients hang out.  
Go offline. Talk to people at the gym. Chat with the people at your organic food store. Join a Meetup group. Connect with your meditation teacher friend. Let everyone in your market know that you are starting a health coaching business. Talk to people. Be helpful. By giving generously of who you are they will trust you and be happy to refer you to others.
Host a free workshop locally. Present something on your topic of expertise. Many times the local chamber of commerce, health club, or library are looking for free programs to give. Just make sure you follow up with everyone!
Networking. There are a number of networking groups you can join locally to tell others about your business. Below is a list of some quality groups to check out.
Business Network International (BNI) 
National Association of Female Executives (NAFE)
National Association Women Business Owners 
National Association of Professional Women 
Plus visit the local Chamber of Commerce groups in your area.
Social Media. There is a wealth of connections to be made in Facebook groups and Linkedin Groups. Start off by joining 3-5 groups. Respond with insights to people's posts. Be helpful. When you are giving and generous, people will respect you and see you as a resource for health questions. These connections can lead to clients.
Another great source of referrals is connecting with other practitioners. For example if you do breast cancer nutrition support, you can connect with cancer doctors or general practitioners who refer women for mammograms. You may be able to find a breast cancer support group on Meetup.com.  Maybe you can connect with a naturopath who prescribes herbal recovery treatments for women with breast cancer.  
Many health food stores have free health magazines in the front. Flip through to see who is advertising. They are all people you can network with to cross refer clients.
Create a Work Schedule:
A successful entrepreneur plans their day. They keep track of daily tasks, schedule follow ups, and block off time for business development.
Chunking your time will help you to be more productive. That way instead of bouncing back and forth reactively to tasks, you are responding proactively by spending your time on predetermined priorities. It stops you from reacting to constant interruptions.
If mornings are your most productive time, block that off for thinking, writing, or marketing.
You can make a block of time during the day for coaching calls and consultations.
Make time to handle your administrative tasks such as checking email and answering voice mail.
Signature Program:
Are you ready to create and launch your own signature program, to make the money you deserve, and to attract your ideal clients? It's not as hard as you think. Write down the steps that you normally take to work with a client. Find a special way to name and categorize it. For instance maybe it's "the 10 pillars to mens fitness". Or you can also break it down to have a name where every letter of the name stands for something.
As an example, here's how you can break Body Mapping into a signature Program name.
Bringing
Ordinary
Daily
Yoga
Mindfulness
And
Powerful
Perspectives
Into
Nourishing
Goals
You get the idea right? Be creative. Have fun. There's always a unique way to present your approach that makes it memorable and uniquely you.
Hire a Team:
If you want to have a successful business and not lose your mind in the process you'll need to build a team. Write a list of everything that you do in a given day on your business. Make an X on things that only you can do. Do you see there are a lot of items that could be outsourced?
As your business grows, in order to scale to the next level you'll need to stop working in your business and start working on your business. There are tasks that are income generating that you should handle. But there are also a lot more tasks that you can let go of.
Imagine having someone to handle your email, client appointments, follow ups, answering the phone, calendar management, file management, personal errands, online research, accounting, social posting, creating basic reports, making presentation decks, and customer service requests.
Some top sites to check out for virtual assistants include:
Fiverr.com
Freelancer.com
Upwork.com
FreeeUP.com
Zirtual.com
When you are interviewing assistants, here are some questions to ask.
What are your skills and expertise?
Tell me about your past experience?
What are your working hours?
How quickly do you usually respond to requests?
What do you enjoy most about your job?
Do you have some references I can contact?
You want to make sure your assistant has the skills you need, the right availability and that you have communicated well with them. Consider issuing them a test project to see what the process of working with them is like. Plus you'll get to see the quality of their work.
Get a Mentor:
When you first start your business, it's hard to get a consistent flow of clients. You really need help with your marketing, sales, next steps, and strategy to help you earn your first six figures.
You are a health coach in the building stages of your business. You have so much to offer your clients and are passionate about what you do. But you really need to start earning more money in your business. You are ready to take your business to the next level.
You really need a consistent cash flow. But attracting clients isn't as easy as you'd like. This is starting to get you stressed. You find yourself working long hours, evenings, weekends. Suddenly your dream business you created for a flexible lifestyle has become a nightmare. You know there is so much to learn. But it seems no matter what you do that you keep getting the same results. What you need is a proven step-by-step system that will help you get more clients and make more money in the ramp-up phase of your business.
If you are ready to scale up your health coaching business in a big way, we can help. I specialize in high-impact coaching. I have helped many coaches like you to earn their first 6 figures and even ramp up to 7 figures.
I can help you with your marketing, sales process, offers, and mindset. Wherever you're at in your health coaching journey, I can help you get the systems, strategies, and support to get your mission and message to the world. My system is designed to take you from zero to a 6-figure business in under 90 days. Check out my program here!
Book a Clarity Call today. I'd love to share how I can help you to personally get the results you are dreaming about. https://zanderfryer.clickfunnels.com/schedule-a-call-step-1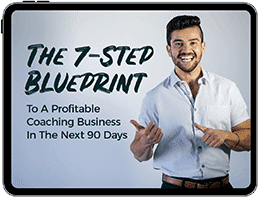 The 7-Step Blueprint to
a Profitable Coaching
Business in the Next
90 Days