How To Make $30K/mo As A Spiritual Coach
Is it possible to become a well-off spiritual coach? Contrary to what most people might think, spirituality and money don't repel each other! Today, I'm talking with the amazing Lisa Brewer, who has gone on a long but fascinating journey from charging $30 to making over $30K a month as a spiritual coach. Join us and find out the biggest shift she had to make in order to get up to that point, and the unbelievable breakthrough she is about to reveal.
You will learn:
Debunking the myth that business and spirituality can't go together.
Something we always forget as an entrepreneur.
The biggest lesson she learned from her beginning days.
Getting the "pain in the ass" factor dropped immediately.
Why you can't ever charge low prices (even at the beginning).
The moment she realized she was worth enough to be paid premium prices.
---
And whenever you are ready to get our help building or scaling your coaching business, here are some resources you can use below:
Check out our FREE 7-step video training to build a profitable coaching business >HERE<
Join thousands of coaches in our FREE Facebook community >HERE<
If you are interested in our programs to help you build a profitable coaching business you can review them >HERE< and set up a free 15 clarity call with one of our coaches to help see if we might be able to help.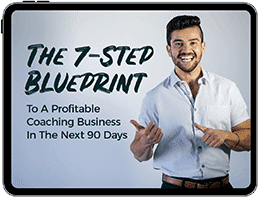 The 7-Step Blueprint to
a Profitable Coaching
Business in the Next
90 Days