How to Become a Successful Executive Coach (What You Need to Know!)
Have you ever thought about becoming an executive coach? Are you an experienced corporate leader who has a desire to serve others and help them realize their potential? You have seen and done a lot in your years in Corporate America. The lessons you have learned speak volumes. That may be why you are thinking about becoming an executive coach.
Maybe you yearn to do something more fulfilling with your life. At some point working for a salary just isn't enough. You want to achieve something more and make a lasting difference.
What Skills Are Needed to Become an Executive Coach?
In addition to the desire to be an executive coach, you also need the right set of skills. Personal mastery is a great place to start. Unless you are aware of who you are, your strengths, weaknesses, and the path to achievement, you can't guide someone else there.
Another important skill is emotional intelligence. You need to understand how you are wired emotionally and how those emotions affect your perception, attitudes, and the way you operate.
With emotional intelligence comes the need for advanced interpersonal skills and communication. When you are dealing with high level executives and teams, there may be a lot of ego and conflict you have to deal with. Being able to share a message in the right way will make it easier for people to listen, embrace, and apply new learning.
Flexibility and creativity are key. Every person is different. Therefore the path to success will look different for each person. Being able to see someone authentically and design a personalized plan for their growth will make you way more effective as an executive coach.
Benefits of Becoming an Executive Coach
Top performers realize the importance of personal development. The concept of Kaizen is based on continuous improvement, based on the constant small positive changes that result in significant growth. High achievers realize this and devote themselves to being at the top of their game.
Some of the world's most successful CEOs like Bill Gates, Steve Jobs, Eric Schmidt, and Oprah Winfrey have used an executive coach to harness their potential. In a 2013 executive coaching survey, 80 percent of CEOs said they received some form of mentorship. As an executive coach, the opportunities are huge. There is a massive need for these services and a wealth of benefits for those who go into executive coaching.
When you become an executive coach, the world will become your black book. C-suite level executives have huge networks. When you are an amazing executive coach, they love referring you with their closest friends and colleagues. That could take you to places you never ever dreamed of. They can give you a warm introduction to potential clients who would rock your world.
If you are approaching your retirement years, executive coaching may be a great way to slow down. It allows you to take the experience and insights of your corporate career and help others. Plus it can provide a much needed side income in your retirement years. Having extra money to pursue a hobby, spoil your grandkids, or take an extra vacation will greatly enrich the quality of your life.
Being an executive coach offers balance and flexibility like no other career. You choose who you work with, even clients from all around the world. You schedule your coaching appointments. With a phone and Zoom, you can work virtually from home. What an incredible chance to create a career that perfectly matches your lifestyle.
Talk about fulfillment. The personal satisfaction of helping others to grow to their potential is incredible. Every situation you have gone through becomes a success playbook from which you can help others to grow. Sharing your insights gained from an entire career to a skilled up and coming leader is incredibly rewarding.
This gives you the chance to follow your purpose. Retirement will be hard for some. Your life slows down considerably. You feel like all you can do is watch the grandchildren, volunteer, or find a hobby like gardening. If you need something deeper to feel alive executive coaching could be just what you are looking for.
Can You See Yourself Becoming an Executive Coach?
Imagine working from your home coaching top level executives. As you listen to the details of their job situations, you get to help them be aware of their strengths, the opportunities ahead of them, and steps to get there. Back in the day you used to climb on a plane to go attend a meeting to be a part of the action. Today you empower others by helping them see what's possible. It's incredibly rewarding. Now you get to make the decision of who you want to work with and just go for it.
Who Needs an Executive Coach?
Anyone who believes in the power of personal development and is open to coaching and growth is a perfect candidate. High level performers like CEOs, C-level executives and senior leaders can all benefit from partnering with an executive coach.
The Results you'll Help Clients to Create When You Become An Executive Coach
As an executive coach, you are in a position to empower your clients in so many ways. You can help them to:
Find rock solid strength, confidence and clarity.
Inspire others to breakthrough success.
Take bolder, more strategic career moves.
Build a larger vision and strategy for the company's future.
Uncover insights for getting team players to work together.
Master ways to be effective during mergers, acquisitions, succession, and corporate crises.
Successfully navigate tough interactions with boards and shareholders.
Confidently face new challenges head on.
Become a more powerful, influential speaker.
Raise the bar on your personal performance
Executive Coaches Know the Incredible Pressure their Clients Are Under
Let's face it, your ideal clients are under a tremendous amount of pressure. You will be their life jacket keeping them afloat in a highly competitive world. As an executive coach, you can help your clients to cast a vision for their success, reduce turnover, overcome obstacles, make tough decisions, improve communication/interpersonal skills, navigate change, resolve conflict and accelerate growth.
What it Takes to Become an Executive Coach
The first step to becoming an executive coach is deciding that it's right for you. If you have corporate career experience and love helping others grow and achieve their potential, you have what it takes. It's also important to know your why. What motivates you to become a coach? Embracing that sense of purpose is going to give you the strength to work hard to make your business grow.
Having some corporate "chops" is definitely an advantage. When you have a personal story of finding your way to create a big win, it shows that you understand the importance of personal growth to success. When clients see that you have been there and done that it brings a lot more credibility. This success story will set you apart as you seek to attract executive clients to coach.
There is no requirement that you take a coaching certification course. But we do recommend that you learn from a mentor coach how to create an effective coaching program. While you may have achieved incredible success in your career, it takes a certain knowledge to make those concepts teachable for others. A mentor coach helps you understand the best ways to teach, support, empower, and hold others accountable to achieving their goals.
Curious What Type of Executive Coach You Could Become?
Look at your experience and passion and find an area that fits your sweet spot. This will be the area in which you can truly excel.
A Leadership Coach provides insights and understanding to improve performance and skills that leads to achieving goals and becoming a more effective leader.
A Succession Coach identifies, develops and supports top successors and provides a plan to fill future management and leadership roles.
A Transition Coach helps companies move through transitions and crises to achieve a set of goals.
A Strategic Coach gives individuals the structure, tools, and support for helping business professionals multiply their income, achieve greater work-life balance, and enjoy more freedom.
An Accountability Coach provides support and accountability for helping individuals achieve their goals.
A Team Coach teaches team management and creates the framework for improving performance and realization of organizational goals.
A Platform Coach improves delivery of communication with clients and team members by understanding the level of impact and influence you have and best ways to present that.
A Mentor Coach helps senior leadership to rapidly expand perspectives, enable greater strategic clarity, better decision-making, and more impactful execution.
Steps to Becoming a Successful Executive Coach
Just knowing how to be an executive coach doesn't mean you'll know how to build a successful business. We have helped many coaches build lucrative 6 and 7 figure executive coaching businesses. Take a look at what we teach in my High Impact Coaching Programs https://zanderfryer.com/programs/. Here's what we recommend to position yourself for growth.
Why – Understanding from a heart standpoint what motivates and drives you will help you go the extra mile when things get tough. You need to know what truly excites you about being an executive coach.
Education – Part of your success will come from being in Corporate America and learning first hand strategies that make all the difference. The other part will be working with a business expert who knows how to help you package what you sell, position what you know, and build your business. (that's what we do here! https://zanderfryer.com/programs/)
Define your Ideal Executive Coaching Client – Not every client is the right one for you. Defining a targeted group of individuals you want to serve really sets you apart. It could be age, industry, job title, or geographic region. For instance there is a huge difference in working with CEOs of companies and working with Women CEOs of Nonprofits helping to serve the underprivileged and hungry. Do you want to be one in a million? Or do you want to be one of three experts nationwide in that niche?
Connect and Grow – How do you go from being a stranger to being a trusted expert? Social media can be a huge part of this. We specialize in helping executive coaches create a social media strategy that attracts the perfect coaching clients. When you show value and help them, they are much more receptive to working with you.
Executive Coaching Packages – The days of offering coaching by the hour are past. Successful executive coaches know that people want results oriented packages.
Marketing Plan – When you promote this and that at random, it weakens your marketing results. That's why it's so important to have a marketing plan. When you know the three things you want to promote in the next 90 days and have an editorial calendar about value oriented posts, promotional posts and calls to action, it will dramatically enhance the results of your promotional efforts.
Background Story – Potential executive coaching clients want to know why they should listen to you. They want to hear the challenges you faced in your career, what you did, the results you got, and how you help others to succeed with that same approach. Stories are such a powerful part of building trust with potential customers. Take time to develop your story so you can share it as a part of your marketing.
Thought Leadership – Showcasing your expertise is a huge credibility builder. They don't just want to know that you can regurgitate others' winning theories. They want to see that you have been through the ropes, worked with others in tough situations, and what unique approaches you have that work. Writing and speaking are the keys to owning thought leadership.
Challenges Executive Coaches Face
In order to be a successful executive coach there are some challenges you'll need to navigate.
You have to get past the gatekeeper to discover the name of the decision maker.
You have to clearly define ROI to leadership who will decide if executive coaching is in their budget.
You have to get through to executives who may be unwilling to admit past mistakes.
You need to have tough skin. CEO's and high level executives don't sugar coat things.
If you want to get farther, faster, with less effort that's why we strongly recommend you work with someone to help you grow your executive coaching practice.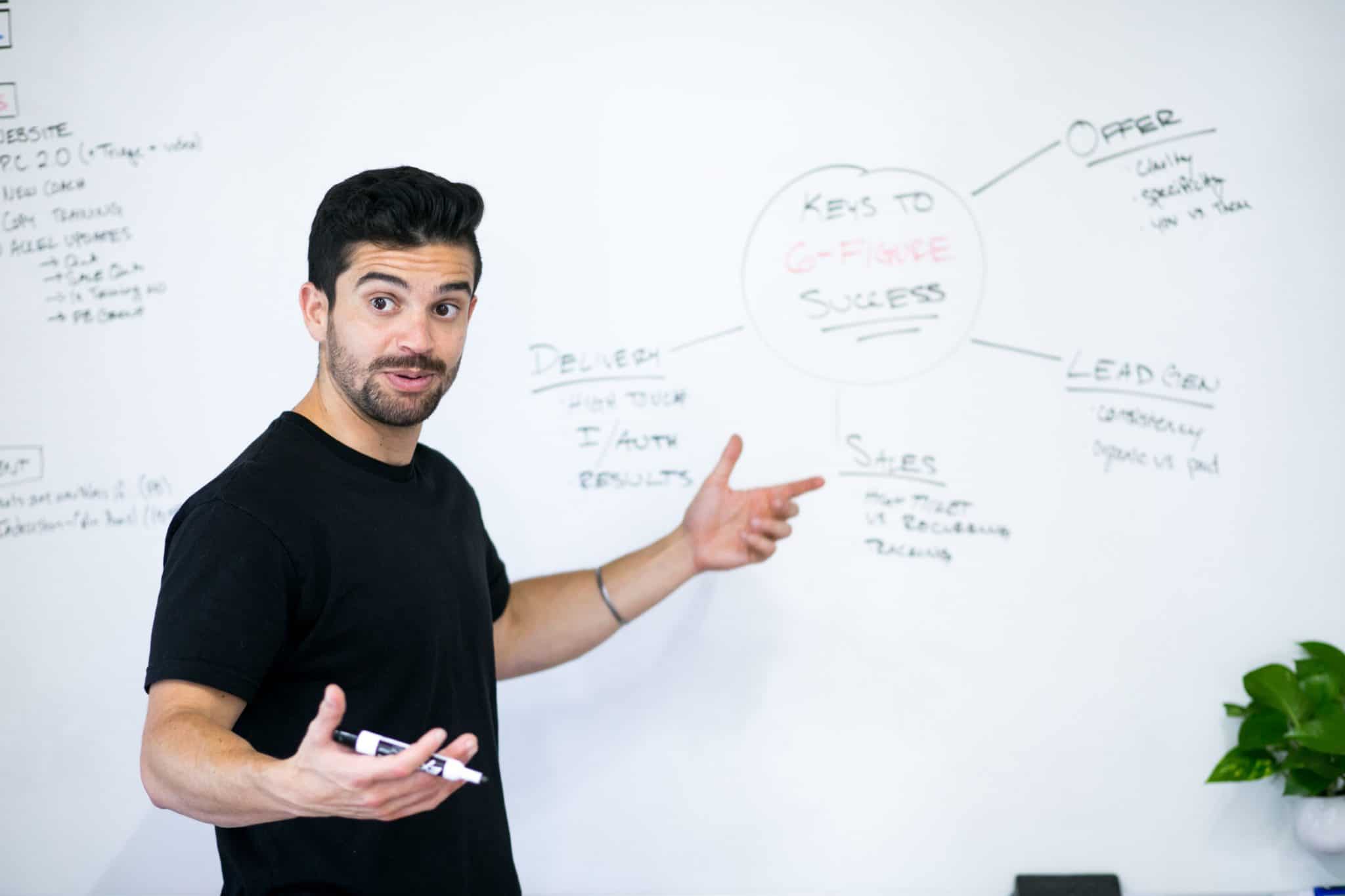 Elevate your Executive Coaching Practice
We specialize in helping you accelerate the growth of your business by helping you get more clients and make more money. We help high-achieving individuals become executive coaches and accelerate their success into a new level of leadership, income and impact. You'll receive all of our attention, energy, creativity, and business savvy focused totally on you and your executive coaching business.
Our High Impact Coaching program is a proven system for getting more executive coaching clients than you can handle.
Become The executive coach you are meant to be. Book a free clarity call today to learn more.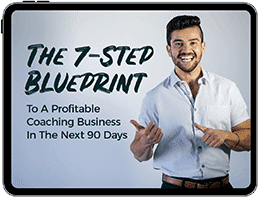 The 7-Step Blueprint to
a Profitable Coaching
Business in the Next
90 Days