How to Build Strong Relationships With Your Clients
Everything has drastically changed in these 2 short [but long] years. How we manage our business growth and client/customer relationships changed along with everything else.
We're mostly all virtual these days, but how have you adjusted to this new lifestyle? We aren't the only ones living in uncertainty. Reassuring our clients can help build our relationships with them. Watch this video for more tips on how to keep a firm and trusting relationship with your clients.
---
Super signature is:
And whenever you are ready to get our help building or scaling your coaching business, here are some resources you can use below:
Check out our FREE 7-step video training to build a profitable coaching business >HERE<
Join thousands of coaches in our FREE Facebook community >HERE<
If you are interested in our programs to help you build a profitable coaching business you can review them >HERE< and set up a free 15 clarity call with one of our coaches to help see if we might be able to help.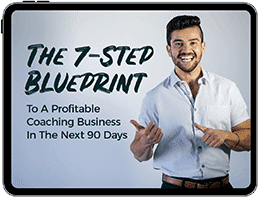 The 7-Step Blueprint to
a Profitable Coaching
Business in the Next
90 Days