OVERTHINKING? | These Tips Will Help!
Overthinking? It's normal! We're all guilty of it, but the real question is… HOW DO YOU OVERCOME IT?
I have these 3 great tips for you to use when overthinking is getting in your way of reaching your highest potential.
---
And whenever you are ready to get our help building or scaling your coaching business, here are some resources you can use below:
Check out our FREE 7-step video training to build a profitable coaching business >HERE<
Join thousands of coaches in our FREE Facebook community >HERE<
If you are interested in our programs to help you build a profitable coaching business you can review them >HERE< and set up a free 15 clarity call with one of our coaches to help see if we might be able to help.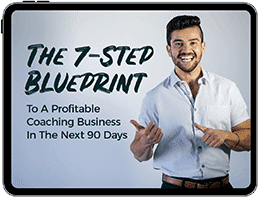 The 7-Step Blueprint to
a Profitable Coaching
Business in the Next
90 Days