NEVER SETTLE for LESS- It's NOT Worth It! This will 🔥 You UP!
Never EVER Settle, It's Not Worth it.
Why Settle when your'e capable of so much?
If you're looking for a motivational speech or video, look no further than this!
You need to hear this. Zander Fryer explains a new lens you need to look to in regards to your life and success. In regards to what you're truly capable.
It's a lot. Bob Proctor and other motivational speakers have had incredibly motivational content you've likely heard, and they go deep into why settling is simply never the answer, but this video has an entirely different view, that may shock you.
---
And whenever you are ready to get our help building or scaling your coaching business, here are some resources you can use below:
Check out our FREE 7-step video training to build a profitable coaching business >HERE<
Join thousands of coaches in our FREE Facebook community >HERE<
If you are interested in our programs to help you build a profitable coaching business you can review them >HERE< and set up a free 15 clarity call with one of our coaches to help see if we might be able to help.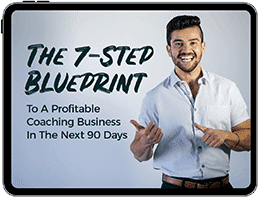 The 7-Step Blueprint to
a Profitable Coaching
Business in the Next
90 Days