Get Rid Of Your Limiting Beliefs FOREVER
One of the most common issues that hold back an entrepreneur is their own limiting beliefs.
These beliefs could come from your peers, parents, or even be imparted upon you during childhood.
Do NOT let that stop you.
In this video, I give you three tips to get rid of these limiting beliefs FOREVER.
---
Check out our FREE 7-step video training to build a profitable coaching business >HERE<
Join thousands of coaches in our FREE Facebook community >HERE<
If you are interested in our programs to help you build a profitable coaching business you can review them >HERE< and set up a free 15 clarity call with one of our coaches to help see if we might be able to help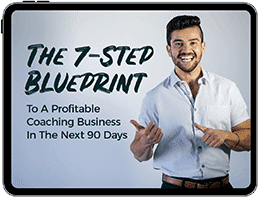 The 7-Step Blueprint to
a Profitable Coaching
Business in the Next
90 Days