These 10 Books Should Be REQUIRED Reading For Every Coach
So, as a coach – when you're helping others, you must continue your learning.
Learning and reading must be a lifelong passion for those who go into helping others with personal development.
I've read hundreds of books over the past few years, and today I'm going to give you my top 10 that EVERY coach should read.
---
And whenever you are ready to get our help building or scaling your coaching business, here are some resources you can use below:
Check out our FREE 7-step video training to build a profitable coaching business >HERE<
Join thousands of coaches in our FREE Facebook community >HERE<
If you are interested in our programs to help you build a profitable coaching business you can review them >HERE< and set up a free 15 clarity call with one of our coaches to help see if we might be able to help.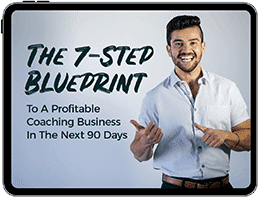 The 7-Step Blueprint to
a Profitable Coaching
Business in the Next
90 Days