Digging Deep Into Autoimmune Health With Justin Janoska
Today, we're interviewing a good friend of mine, Justin Janoska!
He's the founder of The Autoimmune Revolution, which helps women REVERSE their Auto-Immune issues through lifestyle changes.
He's worked with hundreds of women to do what many doctors have told them they cannot do – which is overcoming these diseases.
We're going to dig deep into your health & what autoimmune actually is.
I'm excited! Let's get right into it!
---
And whenever you are ready to get our help building or scaling your coaching business, here are some resources you can use below:
Check out our FREE 7-step video training to build a profitable coaching business >HERE<
Join thousands of coaches in our FREE Facebook community >HERE<
If you are interested in our programs to help you build a profitable coaching business you can review them >HERE< and set up a free 15 clarity call with one of our coaches to help see if we might be able to help.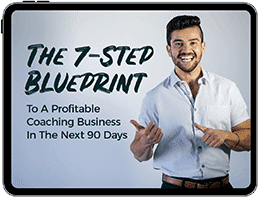 The 7-Step Blueprint to
a Profitable Coaching
Business in the Next
90 Days