Building Client Relationships That LAST… It's About the MEANING & Not The Money
How do you build relationships that LAST? Specifically, relationships with your clients that LAST?
I mean, that really, really last? Ones that are meaningful, that are built on trust & confidence in each other?
When it comes to building relationships within your business, too many times people are focusing on the money-making aspects of client relationships versus the stuff that really matters.
When you're focused on just making money & not building a relationship that is meaningful, one where you only look at your clients as dollar signs… you are going to fail.
100%. If you don't actually build those relationships & care about your clients… your clients are going to fire you.
There's no way around it.
Now, I don't think that the majority of people neglect to build lasting relationships with their clients because they just want to squeeze money out of them… I think it's because they don't know HOW to build those types of client relationships.
They don't know how to lay the correct foundation & build upon that.
Well, in today's video, we're going to address the 3 ways that you can build healthy, meaningful, and LONG LASTING relationships with your clients that can last years.
---
And whenever you are ready to get our help building or scaling your coaching business, here are some resources you can use below:
Check out our FREE 7-step video training to build a profitable coaching business >HERE<
Join thousands of coaches in our FREE Facebook community >HERE<
If you are interested in our programs to help you build a profitable coaching business you can review them >HERE< and set up a free 15 clarity call with one of our coaches to help see if we might be able to help.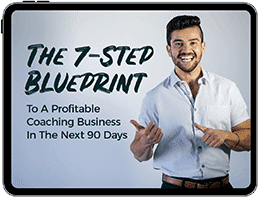 The 7-Step Blueprint to
a Profitable Coaching
Business in the Next
90 Days