He Created A $100 Million Dollar Company In Less Than 12 Months
FREE eBook on becoming more intelligent here: https://shityoudontlearnincollege.com/optin11183574
---
Today on the SYDLIC podcast, we're interviewing Joel Marion – host of the Born To Impact Podcast that has over 1.4 million followers. He's also a 6x Best Selling Author.
Joel's entrepreneurial journey is INCREDIBLE, to say the least. He grew a 100 million dollar supplement company in less than 12 months & now has a personal brand that is worth over 10 million dollars.
Before all those zeros & millions were added to his resume & biography, Joel was a P.E. teacher who was living (more like struggling to survive) paycheck to paycheck.
This interview includes & details 3 years of rejection, struggling to make ends meet, how Joel made his first 100k online in just 3 days, learning the importance of connections & masterminds, influencing people, struggling with imposter syndrome even when you're successful…. and so much more.
This interview is jam-packed full of wisdom & life/business advice that people pay hundreds of thousands of dollars to get from Joel…. all given away to the SYDLIC for free.
If you're wanting to improve yourself, your life, and the lives of those you love – you can't afford to miss this interview.
---
And whenever you are ready to get our help building or scaling your coaching business, here are some resources you can use below:
Check out our FREE 7-step video training to build a profitable coaching business >HERE<
Join thousands of coaches in our FREE Facebook community >HERE<
If you are interested in our programs to help you build a profitable coaching business you can review them >HERE< and set up a free 15 clarity call with one of our coaches to help see if we might be able to help.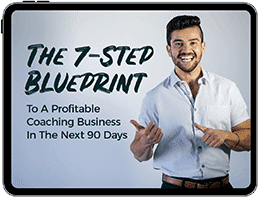 The 7-Step Blueprint to
a Profitable Coaching
Business in the Next
90 Days