From The Farm To Multi-Millionaire Business Consultant | Interview With Craig Ballantyne
Today, on the Sh*t You Don't Learn In College, I have the honor of interviewing my business mentor, Craig Ballantyne.
Craig is someone who not only talks to the talk, but he also walks the walk.
The advice you'll get in this video – people pay hundreds of thousands of dollars for.
I wouldn't miss it if I were you 🔥💰
---
And whenever you are ready to get our help building or scaling your coaching business, here are some resources you can use below:
Check out our FREE 7-step video training to build a profitable coaching business >HERE<
Join thousands of coaches in our FREE Facebook community >HERE<
If you are interested in our programs to help you build a profitable coaching business you can review them >HERE< and set up a free 15 clarity call with one of our coaches to help see if we might be able to help.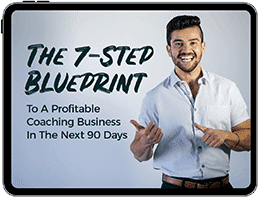 The 7-Step Blueprint to
a Profitable Coaching
Business in the Next
90 Days