The Secret Weapon of the Super Successful
We all want to be more successful in life… right?
Well, we need some help along the way to becoming that successful person!
In today's video, we're going to talk about one IMPORTANT thing that all successful people have.
Let's get into it!
---
And whenever you are ready to get our help building or scaling your coaching business, here are some resources you can use below:
Check out our FREE 7-step video training to build a profitable coaching business >HERE<
Join thousands of coaches in our FREE Facebook community >HERE<
If you are interested in our programs to help you build a profitable coaching business you can review them >HERE< and set up a free 15 clarity call with one of our coaches to help see if we might be able to help.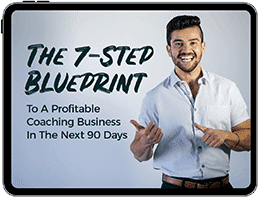 The 7-Step Blueprint to
a Profitable Coaching
Business in the Next
90 Days