Leave Your 9-5 Job & NEVER Go Back (I Did & You Can Too)
My mom hung up the phone on me when I told her I was quitting my 9-5 job. A job where I made over $200k a year to pursue an idea that wasn't a guarantee.
Everyone thought that I had lost my mind. Friends, family, (now former) coworker…. EVERYONE.
But for me, I KNEW that I need to do it… or at the very least TRY.
You know that feeling in your stomach that you get when you know something INSANE was about to happen? Well, I had that. I didn't know if the insane thing was going to be a ton of success, money, and lifestyle freedom or complete financial ruin & lifelong embarrassment for this failed dream… but either way, I had to try.
So my journey began & in the beginning… I thought anyone could be an entrepreneur with the proper amount of gumption & the right resources.
But since going through the struggles & ultimately finding success while creating my own blueprint for it – I've found that not everyone is meant to leave the 9-5 world.
After years of my own struggle & success & years watching & helping others build theirs…. I've noticed that there are 3 things that you MUST have to survive life after the 9-5.
In today's video, we discuss in depth what those things are.
Let's get into it!
---
And whenever you are ready to get our help building or scaling your coaching business, here are some resources you can use below:
Check out our FREE 7-step video training to build a profitable coaching business >HERE<
Join thousands of coaches in our FREE Facebook community >HERE<
If you are interested in our programs to help you build a profitable coaching business you can review them >HERE< and set up a free 15 clarity call with one of our coaches to help see if we might be able to help.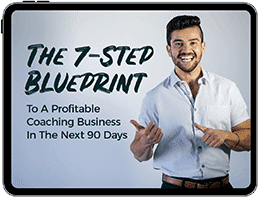 The 7-Step Blueprint to
a Profitable Coaching
Business in the Next
90 Days