Former Military to 8 Figure Health & Wellness Business | Interview With Todd Lamb
Let's do the damn thing!
Today, we're talking to Todd Lamb, who is the CEO & Co-Founder of Pure Life Organics – a health & wellness company that focuses on how they can improve people's health both internally & externally.
From the military to running a multi-eight figure company, Todd's story is a wild one. Knowing that he was always meant to be in business, his beginnings as a public servant and the struggles he faced early on became the launching pad in which he used to become the leader of such a large, successful company.
I'm honored to interview him today & can't wait for you to get to know the man behind the business machine.
---
And whenever you are ready to get our help building or scaling your coaching business, here are some resources you can use below:
Check out our FREE 7-step video training to build a profitable coaching business >HERE<
Join thousands of coaches in our FREE Facebook community >HERE<
If you are interested in our programs to help you build a profitable coaching business you can review them >HERE< and set up a free 15 clarity call with one of our coaches to help see if we might be able to help.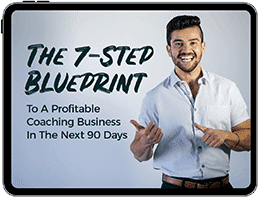 The 7-Step Blueprint to
a Profitable Coaching
Business in the Next
90 Days