Build Your Net Worth By Building Your Network | With Travis Chappell
Today, we're talking to Travis Chappell!
A few awesome things about Travis:
👉 He's the founder & CEO of Guestio – a software that connects high-level guests to high-level content creators
👉He hosts the top-rated show – Build Your Network
👉He's been featured in publications such as Entrepreneur, NASDAQ, Yahoo Finance, among many others.
👉He's also been named a Top 10 Podcaster that will change your life in Forbes alongside people like Joe Rogan, Gary Vee, Tim Ferris, and more!
Travis has learned how to grow his net worth by growing his network! Becoming friends with many influencers, he's been able to get his message out by networking & has started teaching others how to get their messages out by doing the same!
In fact, I wouldn't be hosting the "Sh*t You Don't Learn In School" podcast without him! He's the reason why I have a top-rated podcast!
---
And whenever you are ready to get our help building or scaling your coaching business, here are some resources you can use below:
Check out our FREE 7-step video training to build a profitable coaching business >HERE<
Join thousands of coaches in our FREE Facebook community >HERE<
If you are interested in our programs to help you build a profitable coaching business you can review them >HERE< and set up a free 15 clarity call with one of our coaches to help see if we might be able to help.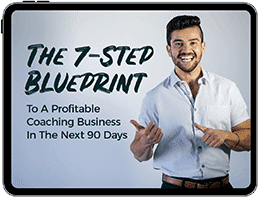 The 7-Step Blueprint to
a Profitable Coaching
Business in the Next
90 Days