How to Generate a 20k/mo Business With Less Than 1000 Followers
Hello, friends. It is Jay Williams, head of client success here at High Impact Coaching. And I am here with Rehan Lakhani. Rehan is a Naturopathic Doctor focused on helping professionals Overcome Anxiety and has been doing this for five years. And today we're going to learn how he grew his business with a very small following and a single channel, and why he is now a coach here at High Impact Coaching.
Rehan realized at a very young age the Big impact Food has on healing. His first job was personal training and helping people achieve their fitness goals. That naturally evolved into combining the exercise and food pieces and eventually, that led him to become a Naturopathic Doctor.
Today we take a look at his Journey to becoming a professional in the space. We're going to take a look at his business, and how he's consistently attracting new clients without relying on social media.
Let's impact together!
You Will Learn:
What got Rehan into coaching.
The 10.000 Hours to mastery.
How most people live their lives based on ideas they never challenge.
The "Why" Behind a successful Business.
Why 50-60% of all practitioners quit at some point in the first 5 years.
The importance of building relationships.
How we doubled our income during covid.
---
And whenever you are ready to get our help building or scaling your coaching business, here are some resources you can use below:
Check out our FREE 7-step video training to build a profitable coaching business >HERE<
Join thousands of coaches in our FREE Facebook community >HERE<
If you are interested in our programs to help you build a profitable coaching business you can review them >HERE< and set up a free 15 clarity call with one of our coaches to help see if we might be able to help.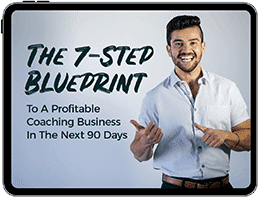 The 7-Step Blueprint to
a Profitable Coaching
Business in the Next
90 Days