When I started as a Life Coach, I always told people how I went to UCLA, got the engineering degree, worked in the 9 to 5, and made multiple 6-figure incomes. I was doing what everybody told me "success" was all about: that the foundation of it all was this college degree, and everything that you learn there would be the way to happiness, joy, fulfillment, and success in life. But after spending 6 years in the corporate world, I learned very quickly that there's a LOT to life beyond college that you do not learn in college, and most of the stuff you do learn does not bring you fulfillment, love, happiness, success, or more money.
And here's another fact. Forbes found out that 87% of the 9 to 5 workplace is either unhappy, unfulfilled, or disconnected with their job. 87%! That's just CRAZY.
So the idea with SYDLIC, is to learn everything we were actually supposed to be taught through the education system. Change what we see as being successful in life, and make the "uncommon" path that many people take these days a lot more common.
Today, I'll take you through the journey of how SYDLIC came to be and how we had to fight the system in the Supreme Court to make it a reality.
You Will Learn:
What SYDLIC is.
My main goal with SYDLIC.
How we fought the system for 2 years and won!
What SYDLIC is all about.
---
And whenever you are ready to get our help building or scaling your coaching business, here are some resources you can use below:
Check out our FREE 7-step video training to build a profitable coaching business >HERE<
Join thousands of coaches in our FREE Facebook community >HERE<
If you are interested in our programs to help you build a profitable coaching business you can review them >HERE< and set up a free 15 clarity call with one of our coaches to help see if we might be able to help.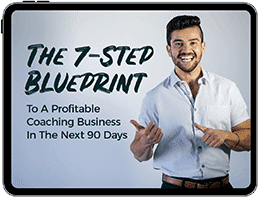 The 7-Step Blueprint to
a Profitable Coaching
Business in the Next
90 Days