I did a Clubhouse last Friday, there were 5 of us hosting this panel, and we all totaled more than $100MM in revenue last year. In this episode, I'll share my biggest takeaways from this experience because I think this will be incredibly helpful for everybody.
One of my good buddies Yuri Elkaim got a question from the audience: You've been in the space making over 8-figures for ten years, How do you keep yourself motivated to keep hitting new goals, and continue making progress?
You won't believe what he had to say.
Every single year is the most successful year Yuri's ever had, and the reason for that is that rather than focusing on the goal, he focused on the process. On being better than the day before, and he doesn't take days off doing this.
We've all heard it. The goal is not to be perfect; the goal is to be better every day. But how many of us really practice this?  Getting out of our comfort zone, doing one thing that scares us, one thing that stretches us, every-single-day!
He shared the root belief that fuels his pursuit of every day being better than the last one. And today, I'm going to break it down for you.
You will learn:
My biggest takeaways from the $100 MM Clubhouse Panel.
How Growth is a decision and a habit.
The root belief that can fuel your desire to be better every day.
Why you must show up at 100% every single day.
---
And whenever you are ready to get our help building or scaling your coaching business, here are some resources you can use below:
Check out our FREE 7-step video training to build a profitable coaching business >HERE<
Join thousands of coaches in our FREE Facebook community >HERE<
If you are interested in our programs to help you build a profitable coaching business you can review them >HERE< and set up a free 15 clarity call with one of our coaches to help see if we might be able to help.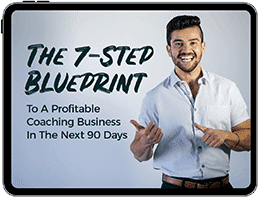 The 7-Step Blueprint to
a Profitable Coaching
Business in the Next
90 Days