How To Overcome Any Fear Or Limiting Belief
You're a Coach, so you know that you have limiting beliefs and fears that could prevent you from getting to the goals you really want to accomplish. Now the trick is figuring out how to overcome these fears and limiting beliefs quickly so you can get to where you really belong.
I want to show you how to overcome any fear or limiting belief holding you back in just one day.
Remember, you didn't sign up for easy, you signed up for impact!
You will learn:
How to overcome fear and any limiting beliefs.
A personal experience that gave me this invaluable life lesson.
The one thing you should be doing every day.
---
And whenever you are ready to get our help building or scaling your coaching business, here are some resources you can use below:
Check out our FREE 7-step video training to build a profitable coaching business >HERE<
Join thousands of coaches in our FREE Facebook community >HERE<
If you are interested in our programs to help you build a profitable coaching business you can review them >HERE< and set up a free 15 clarity call with one of our coaches to help see if we might be able to help.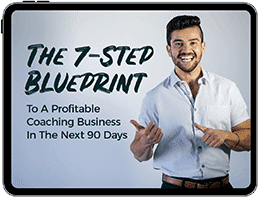 The 7-Step Blueprint to
a Profitable Coaching
Business in the Next
90 Days