Mastering Sales & Objections
In today's episode, I'm having a great conversation with Joe Marcoux, founder of the SOS (Sales Objection System) Do. Joe. He's taking us through his journey and shares in detail what it takes to become a Sales Master. Joe will reveal the top 3 tips to boost sales that any business owner must apply and his 2 step guide to overcoming any objection. He's sharing a lot of his secrets in this podcast, tune in, and don't miss out!
You will learn:
Joe's story and how he got to where he is.
Why you need to define your "Why" and believe in what you do.
Why you must build your beliefs in the right direction.
The top 3 tips for coaches looking to increase their sales.
How to become a Sales Master.
A powerful 2 Step process to overcome any objection.
Why you need to play the A game.
The books around sales you MUST read.
---
And whenever you are ready to get our help building or scaling your coaching business, here are some resources you can use below:
Check out our FREE 7-step video training to build a profitable coaching business >HERE<
Join thousands of coaches in our FREE Facebook community >HERE<
If you are interested in our programs to help you build a profitable coaching business you can review them >HERE< and set up a free 15 clarity call with one of our coaches to help see if we might be able to help.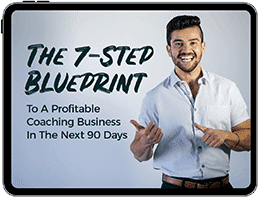 The 7-Step Blueprint to
a Profitable Coaching
Business in the Next
90 Days