How to Build a Profitable And Scalable Coaching Business
I've been in the coaching space for a little over four years now, and we've consistently doubled every single year. We get a lot of questions about how we manage to do that, especially in an industry where it's pretty common to see people have a few good months, maybe have one good year, then plummet back down to zero even having to go back to a 9 to 5.
And the reason that happens is that they haven't figured out how to become consistent.
Today, I'm going to show you the way a successful and profitable coaching business is built, debunking one of the most common myths around growth, and walking you through what it takes to master a new skill and take your business to the next level.
You will learn:
The 3 Stages to scale your business.
Why so many coaching businesses have great months then plummet back down to zero.
What it takes to create consistency and predictability in your business.
What you need to do to master a new skill.
How to build your Coaching Business.
What a Hockey Stick Moment is.
---
And whenever you are ready to get our help building or scaling your coaching business, here are some resources you can use below:
Check out our FREE 7-step video training to build a profitable coaching business >HERE<
Join thousands of coaches in our FREE Facebook community >HERE<
If you are interested in our programs to help you build a profitable coaching business you can review them >HERE< and set up a free 15 clarity call with one of our coaches to help see if we might be able to help.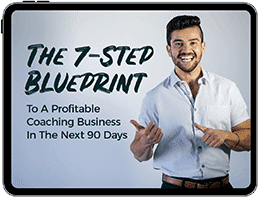 The 7-Step Blueprint to
a Profitable Coaching
Business in the Next
90 Days