3 Ways To Build Your Biz On The Side
Not everybody can afford or wants to quit their job and go all-in on their Coaching Business right away. Today, I want to talk to you about building a 6 Figure Business on the side of your 9 to 5.
I don't care what influencers on social media say or how easy they want to make it look, but building a successful sustainable coaching business takes work, and there are 3 key steps to doing it, and you need to be thorough on each one.
We're taking a look at former Navy SEAL Josiah Kauffman's story, how he built a successful 6 Figure Coaching business on the side, and give you all the details you need to start implementing today.
Remember, you didn't sign up for easy you signed up for impact!
You will learn:
The 3 Steps To Building a coaching business on the side.
Why you must set clear goals with an end date.
Why you need to set really strong boundaries with your family.
When to pull the plug and go all-in.
The Scariest and most freeing decision you'll eventually need to make.
---
And whenever you are ready to get our help building or scaling your coaching business, here are some resources you can use below:
Check out our FREE 7-step video training to build a profitable coaching business >HERE<
Join thousands of coaches in our FREE Facebook community >HERE<
If you are interested in our programs to help you build a profitable coaching business you can review them >HERE< and set up a free 15 clarity call with one of our coaches to help see if we might be able to help.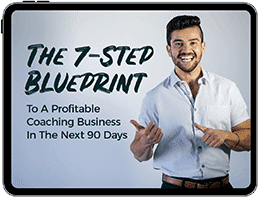 The 7-Step Blueprint to
a Profitable Coaching
Business in the Next
90 Days