How To Build a 6 Figure Coaching Business (While in a 9 to 5)
Is it possible to build a coaching business on the side of your 9 to 5 job? Most people always wait for the "perfect" time to take action, but you still have that voice in the back of your head reminding you of where you could be if you had taken that leap of faith. Today, Josiah Kauffman, former Navy SEAL and founder of The Warrior Calling walks us through his journey from leaving the military to building a successful 6 figure business and finally reconnecting to his purpose. Tune in!
You will learn:
His journey from landing an "ideal" 9 to 5 job to building a coaching business on the side.
Why you need to take that leap of Faith.
The biggest challenge he faced and how he overcame it.
How not being humble can keep you in danger.
The most terrifying decision you have to make.
The one valuable skill you need to take your business to the next level.
The biggest mistake you can make when starting as a coach.
---
And whenever you are ready to get our help building or scaling your coaching business, here are some resources you can use below:
Check out our FREE 7-step video training to build a profitable coaching business >HERE<
Join thousands of coaches in our FREE Facebook community >HERE<
If you are interested in our programs to help you build a profitable coaching business you can review them >HERE< and set up a free 15 clarity call with one of our coaches to help see if we might be able to help.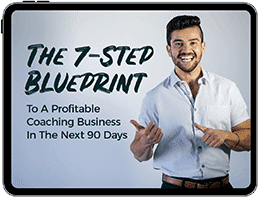 The 7-Step Blueprint to
a Profitable Coaching
Business in the Next
90 Days