What are the biggest reasons coaches fail? This is the type of question that brings out the value of this format. Surrounding myself with people with aligned goals has proven to be incredibly valuable to discover new perspectives, share viewpoints, and have little moments of brilliance. In today's video, we will take you through 6 powerful questions you should be asking yourself. Tune in!
You will learn:
What do you spend unreasonable amounts of money on?
If you weren't a coach, you'd be a ________?
What are the biggest reasons coaches fail?
If you had to make $5000 this weekend in a completely different business, what would you do?
What is the biggest untapped opportunity for coaches?
What is one thing you'd wish every coach would do?
---
And whenever you are ready to get our help building or scaling your coaching business, here are some resources you can use below:
Check out our FREE 7-step video training to build a profitable coaching business >HERE<
Join thousands of coaches in our FREE Facebook community >HERE<
If you are interested in our programs to help you build a profitable coaching business you can review them >HERE< and set up a free 15 clarity call with one of our coaches to help see if we might be able to help.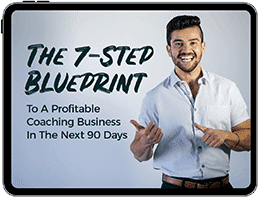 The 7-Step Blueprint to
a Profitable Coaching
Business in the Next
90 Days