Haven't you set a list of books to read in 2021? If you haven't, I'll give you a hand so you can start this year on the right track! Today, I'm showing you 5 mandatory books to read throughout the year. As long as you read them, make sure to apply everything you're told and see your business grow at a rapid pace. From Jeff Bezos to Marcus Aurelius, every single author has an important message to spread. Make the most of them!
You will learn:
5 books to help you make sure 2021 is a rock solid year.
95% of your brain actually consists of your subconscious mind.
The book that will keep your clients on board.
Where to learn the skills and tools necessary to influence others.
What Marcus Aurelius has to say about running your business.
---
And whenever you are ready to get our help building or scaling your coaching business, here are some resources you can use below:
Check out our FREE 7-step video training to build a profitable coaching business >HERE<
Join thousands of coaches in our FREE Facebook community >HERE<
If you are interested in our programs to help you build a profitable coaching business you can review them >HERE< and set up a free 15 clarity call with one of our coaches to help see if we might be able to help.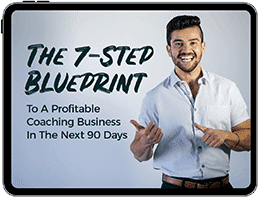 The 7-Step Blueprint to
a Profitable Coaching
Business in the Next
90 Days