3 Steps To Hit Your Goals In 2021
Why are so many people not able to meet their yearly goals? They come up with goals every December, but after a month or two, it's all gone. Today, I'm explaining the key to actually hitting every single goal you set up. From now on, every time you think of a new goal, you will be able to make it come true, so tune in and find out how to achieve those results!
You will learn:
3 secret steps to hit your goals in 2021.
The importance of setting up a process that drives you to success.
How to make your goals sound stupid proof (and why it's necessary to do so).
The actual effect of getting yourself accountable.
---
And whenever you are ready to get our help building or scaling your coaching business, here are some resources you can use below:
Check out our FREE 7-step video training to build a profitable coaching business >HERE<
Join thousands of coaches in our FREE Facebook community >HERE<
If you are interested in our programs to help you build a profitable coaching business you can review them >HERE< and set up a free 15 clarity call with one of our coaches to help see if we might be able to help.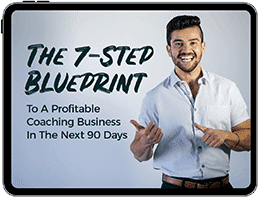 The 7-Step Blueprint to
a Profitable Coaching
Business in the Next
90 Days