What's the most valuable thing you can learn throughout a long coaching career? Today, Jay Williams, our newest member at High Impact Coaching, is chatting with our Director of Operations, Joshua Church. He's explaining the importance of confidence and the fundamental role it plays when it comes to becoming a top salesperson. Find out as he reveals how necessary it is to build the habit of holding yourself accountable and acknowledging what you can and can't control on your way to be successful.
You will learn:
What he's learned about confidence throughout his long coaching career.
How to become a top salesperson at the age of 18.
Building the habit of tracking your sales numbers.
What you can influence, but you can't control.
Doing the non-negotiable thing.
---
And whenever you are ready to get our help building or scaling your coaching business, here are some resources you can use below:
Check out our FREE 7-step video training to build a profitable coaching business >HERE<
Join thousands of coaches in our FREE Facebook community >HERE<
If you are interested in our programs to help you build a profitable coaching business you can review them >HERE< and set up a free 15 clarity call with one of our coaches to help see if we might be able to help.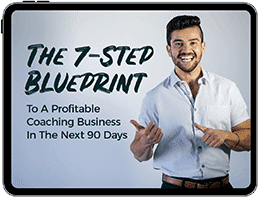 The 7-Step Blueprint to
a Profitable Coaching
Business in the Next
90 Days