Did you know I once wasted over $12K on a coaching mastermind and I learned nothing? And even something more important… Do you know why I don't regret doing so? If you're a coach, you need to spend on coaching and mentoring for yourself. Pay attention as I explain 2 important lessons I got from that disappointing mastermind I showed up at, as well as these 4 reasons why you always need to have a coach with you.
You will learn:
The only 2 things I was sure about when building my business.
Why I've spent over a half million dollars in coaching.
I don't regret wasting $12K attending a mastermind I learned nothing from.
2 important lessons I learned from a terrible coaching I had.
4 reasons why you can never be without a mentor.
---
And whenever you are ready to get our help building or scaling your coaching business, here are some resources you can use below:
Check out our FREE 7-step video training to build a profitable coaching business >HERE<
Join thousands of coaches in our FREE Facebook community >HERE<
If you are interested in our programs to help you build a profitable coaching business you can review them >HERE< and set up a free 15 clarity call with one of our coaches to help see if we might be able to help.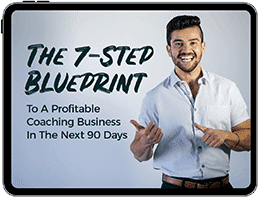 The 7-Step Blueprint to
a Profitable Coaching
Business in the Next
90 Days