What It Takes To Be Successful During Tough Times As A Coach – w: Joshua Church
More than a half of the most successful businesses came out during a recession, do you know why? Because tough times force you to move forward! Today, I'm talking with such a resilient guy who literally was born fighting, Joshua Church, our Director of Operations at HIC. Join us as we talk about the importance of relentlessness for entrepreneurs, as well as my belief that this recession is likely to be one of the best things that could have happened for your business.
You will learn:
Why the world needs coaches now more than ever
How many clients we had when we started working together.
Why Joshua literally was born fighting.
What I learned from getting a DUI and losing my position in the Air Force.
Coming to grips with this belief: everything happens for you, and not to you.
Getting out of stagnation and your comfort zone during adversity.
The reason why I don't feel bad about the recession.
Joshua's words of wisdom to clients who are going through tough times.
---
And whenever you are ready to get our help building or scaling your coaching business, here are some resources you can use below:
Check out our FREE 7-step video training to build a profitable coaching business >HERE<
Join thousands of coaches in our FREE Facebook community >HERE<
If you are interested in our programs to help you build a profitable coaching business you can review them >HERE< and set up a free 15 clarity call with one of our coaches to help see if we might be able to help.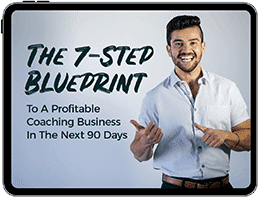 The 7-Step Blueprint to
a Profitable Coaching
Business in the Next
90 Days