How To Sell High Ticket In Your In Person Gym – with Jay Williams
How to move from being over 300 pounds to running your own in-person gym and making $50K/mo? Get to know Jay Williams, our lead success coach at High Impact Coaching. He went through that journey and knows a thing or two about getting high-ticket clients, so pay attention to his story and apply the tips he's about to reveal!
You will learn:
Jay's journey from running an in-person gym to joining us at HIC.
How he struggled to be as fit as he's now (losing 100 pounds in the process)
His outstanding way to making $50K/mo running a gym.
The most shocking part of getting a gym up and running.
Why he's been able to get high-ticket clients.
Dealing with mindset around charging.
The real reason why businesses (with premium products and services) die.
---
And whenever you are ready to get our help building or scaling your coaching business, here are some resources you can use below:
Check out our FREE 7-step video training to build a profitable coaching business >HERE<
Join thousands of coaches in our FREE Facebook community >HERE<
If you are interested in our programs to help you build a profitable coaching business you can review them >HERE< and set up a free 15 clarity call with one of our coaches to help see if we might be able to help.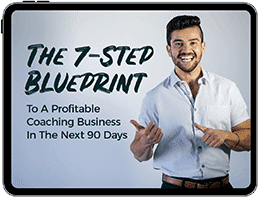 The 7-Step Blueprint to
a Profitable Coaching
Business in the Next
90 Days