How To Turn Followers Into Paying Clients
Do more likes mean more income? Lots of coaches out there believe so, but the real thing is that not all of your followers are willing to become your clients right away. That's why, today, I'm talking with the amazing Aaron Perez, our Head of Social Media at High Impact Coaching. He is a high-value-lead-driving machine with a ton of experience in turning followers on social media into high-paying clients, and he's got a few secrets to share with you, so tune in and get ready to make the most of your social media profiles from now on!
You will learn:
4 major things to apply when turning followers into paying clients.
How to have the right positioning on social media.
Why it's necessary to sell a high-ticket program from the very beginning.
The importance of building relationships with your potential clients.
Don't get obsessed with getting likes and having engagement.
---
And whenever you are ready to get our help building or scaling your coaching business, here are some resources you can use below:
Check out our FREE 7-step video training to build a profitable coaching business >HERE<
Join thousands of coaches in our FREE Facebook community >HERE<
If you are interested in our programs to help you build a profitable coaching business you can review them >HERE< and set up a free 15 clarity call with one of our coaches to help see if we might be able to help.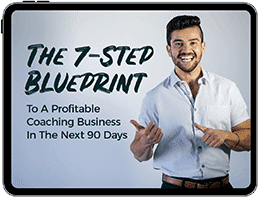 The 7-Step Blueprint to
a Profitable Coaching
Business in the Next
90 Days