5 Reasons Why It's Difficult To Launch A Coaching Biz
There's a bunch of people who think running an online coaching is easy. I mean, making money at your own house, choosing your own schedule and teaching what you love might sound appealing, but getting there will be harder than they think. Today, I'm showing you the 5 reasons that make the online coaching business sector one of the most difficult ways to get a successful business up and running. Find out as I explain all the wrong beliefs most people have about us!
You will learn:
5 reasons why business coaching is such a difficult entrepreneurial area.
What you must be willing to face before making it as a coach.
The effect of having a low barrier entry for online business coaching.
Why most coaches are programmed not to be successful.
Selling and Service AREN'T two different things.
When thinking and analyzing can be dangerous for business coaches.
---
And whenever you are ready to get our help building or scaling your coaching business, here are some resources you can use below:
Check out our FREE 7-step video training to build a profitable coaching business >HERE<
Join thousands of coaches in our FREE Facebook community >HERE<
If you are interested in our programs to help you build a profitable coaching business you can review them >HERE< and set up a free 15 clarity call with one of our coaches to help see if we might be able to help.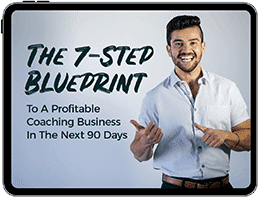 The 7-Step Blueprint to
a Profitable Coaching
Business in the Next
90 Days