How To Make An Entrepreneurial Relationship Work
Some time ago, Maddy lived in Australia while I was in the US, both working on our own businesses. Everyone says entrepreneurial relationships never work, let alone if they are long distance, but guess what? Ours did. Today, Maddy and I will be explaining how we succeeded in keeping ourselves and our businesses growing, as well as the things we had to overcome in order to stay together. Learn the importance of communication and these tips for keeping the flame alive.
You will learn:
3 things we implemented in our relationship to keep us growing together.
What's the biggest thing we've had to overcome to stay together.
What we did to make a long distance entrepreneurial relationship work.
Why communication is such an important key to succeed in any relationship.
Little things that prevent your relationship from decaying.
---
And whenever you are ready to get our help building or scaling your coaching business, here are some resources you can use below:
Check out our FREE 7-step video training to build a profitable coaching business >HERE<
Join thousands of coaches in our FREE Facebook community >HERE<
If you are interested in our programs to help you build a profitable coaching business you can review them >HERE< and set up a free 15 clarity call with one of our coaches to help see if we might be able to help.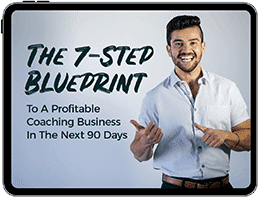 The 7-Step Blueprint to
a Profitable Coaching
Business in the Next
90 Days