How I Learned To Love Sales
Today, Joshua Church, our amazing Director of Operations at High Impact Coaching, is sharing his journey on sales, how he went from hating to loving them more than anything else, and what sales mean in his life currently, so find out as he reveals why sales are the most powerful tool for bringing not only results for your clients, but also happiness and a new view of life.
You will learn:
How he moved from hating sales to loving them more than anything.
Sales can be the best tool for providing people with help.
How powerful sales can be when you're committed to an idea.
Starting acting from a place of purpose instead of from a place of fear.
---
And whenever you are ready to get our help building or scaling your coaching business, here are some resources you can use below:
Check out our FREE 7-step video training to build a profitable coaching business >HERE<
Join thousands of coaches in our FREE Facebook community >HERE<
If you are interested in our programs to help you build a profitable coaching business you can review them >HERE< and set up a free 15 clarity call with one of our coaches to help see if we might be able to help.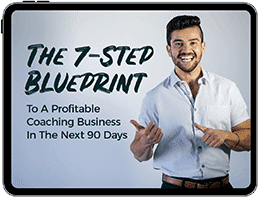 The 7-Step Blueprint to
a Profitable Coaching
Business in the Next
90 Days